Ethan Stowell's New Italian Kitchen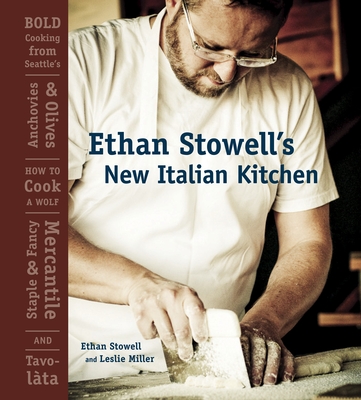 Ethan Stowell's New Italian Kitchen
Bold Cooking from Seattle's Anchovies & Olives, How to Cook a Wolf, Staple & Fancy Mercantile, and Tavolata
Ten Speed Press, Hardcover, 9781580088183, 228pp.
Publication Date: September 21, 2010
* Individual store prices may vary.
Buy at Local Store
Enter your zip code below to purchase from an indie close to you.
or
Buy Here
Description
Welcome to "Ethan Stowell's New Italian Kitchen"--not so much a place as a philosophy. Here food isn t formal or fussy, just "focused, "with recipes that honor Italian tradition while celebrating the best ingredients the Pacific Northwest has to offer. We re talking about a generous bowl of steaming handmade pasta--served with two forks for you and a friend. Or perhaps an impeccably fresh crudo, crunchy cucumber and tangy radish accenting impossibly sweet spot prawns. Next up are the jewel tones of a beet salad with lush, homemade ricotta, or maybe a tangle of white beans and clams spiked with Goat Horn pepper--finished off with a whole roasted fish that begs to be sucked off the bones. Oh, some cheese, a gooseberry compote complementing your Robiola, or the bittersweet surprise of Campari sorbet.
This layered approach is a hallmark of Ethan's restaurants, and in his "New Italian Kitchen, "he offers home cooks a tantalizing roadmap for re-creating this style of eating. Prepare a feast simply by combining the lighter dishes found in Nibbles and Bits from Sardine Crudo with Celery Hearts, Pine Nuts, and Lemon to Crispy Young Favas with Green Garlic Mayonnaise or adding recipes with complex flavors for a more sophisticated meal. Try the luscious Corn and Chanterelle Soup from The Measure of a Cook; or the Cavatelli with Cuttlefish, Spring Onion, and Lemon from Wheat's Highest Calling. Up the ante with a stunning Duck Leg Farrotto with Pearl Onions and Bloomsdale Spinach from Starches to Grow On, or choose one of the Beasties of the Land, like Skillet-Roasted Rabbit with Pancetta-Basted Fingerlings. Each combination will nudge you and your guests in new, unexpected, and unforgettable directions.
Every page of "Ethan Stowell's New Italian Kitchen" captures the enthusiasm, humor, and imagination that make cooking one of life's best and most satisfying adventures. It's got to be good--but it's also got to be fun.
About the Author


LESLIE MILLER is an editor and writer whose work has appeared in Bare Your Soul, The Unsavvy Traveler, Young Wives' Tales, and Sex and Single Girls, among other publications, and is currently at work on her first novel. She lives with her family in Seattle.

Geoffrey Smith is a publisher and author of 100 Best Paintings in London.
Praise For Ethan Stowell's New Italian Kitchen…
"When acclaimed Seattle chef Ethan Stowell set out to write a cookbook, his goal was to create one that inspires home cooks but doesn't take itself too seriously -- a tall order for any chef-driven book. But "Ethan Stowell's New Italian Kitchen" achieves all that and more, showcasing the refined but unfussy Italian-meets-Pacific Northwest dishes that earned Stowell multiple James Beard Award nominations."
—Portland Oregonian, Best of 2010, 12/21/10

"Ethan Stowell is to Italian food what David Chang is to Asian food, not a purist but a flavor junkie and a stickler for quality. Both make big bold food and manage to coax the most flavor out of everything they make. They seduce you with texture and intensity. They are not about authenticity, but about creating fantastic food. Hallelujah!"
—Cooking with Amy, Top Cookbooks 2010, 12/18/10

"Baked Stellar Bay Kusshi oysters with garlic breadcrumbs, cannelloni with braised pork cheeks and sweet cicely, zatar-rubbed leg of goat with fresh chickpeas and sorrel -- this is the gutsy Northwestern spin that Seattle chef Ethan Stowell puts on Italian cuisine. Big flavors, local ingredients and compelling flavor combinations are the hallmarks of his recipes."
—L.A. Times, 12/9/10

"The celebrated Seattle chef offers his brash take on nose-to-tail Italian. Party tripe on soft polenta for everyone!"
—The New York Times Book Review, Web Extra: 25 More Cookbooks, 12/3/10

"Crazy for the soft-boiled eggs with anchovy mayo at How to Cook a Wolf on Queen Anne? (I am!) You'll find the recipe here. Ever wonder how to clean a geoduck? (I have.) Chef Ethan Stowell provides the pictorial process, and a recipe for geoduck crudo — just like they serve at his Capitol Hill comer Anchovies & Olives. And of course, there's a whole chapter on pasta, fresh and dried (the star of the show at Tavolata in Belltown)."
—Seattle Times, 12/2/10

"Above the rank and file of Italian cookbooks."
—StarChefs.com, Top 10 Cookbooks 2010: Honorable Mention, November 2010

"The perfect homage to traditional Italian cooking – but sexier! Dive into this one; New Italian Kitchen is fun, delicious and guaranteed to get the creative kitchen juices flowing!"
—Guest blogger Kathy Casey, Al Dente, Amazon food blog, 11/15/10

The title's "new" claim is apt; this is no red-sauce cookbook. The proprietor of three popular, ingredient-driven, Italian-inspired Seattle restaurants presents a collection of recipes rich with flavor and often featuring intriguing taste combinations. Cavatelli with cuttlefish, spring onion, and lemon has a hit of spice from chili flakes, and a roast quail is stuffed with pancetta, lacinato kale, and sage. As with any good chef-written book, readers will find gems of kitchen wisdom--like which parts of watercress to use in a salad and how to prepare beef to make carne cruda with the perfect texture--casually sprinkled throughout. A humorous chapter on cheese and desserts includes such intriguing presentations as La Tur with oven-roasted tomato; lemon verbena panna cotta with poached peaches; and roasted figs with chocolate-espresso ganache. Like the other recipes in the book, these showcase fresh ingredients and have a decidedly modern feel. (Oct.)
—Publishers Weekly, 9/6/10

"Ethan Stowell's New Italian Kitchen is not only a great collection of accessible recipes that compel one to start cooking right away, and it also reveals a chef with soul. This book perfectly captures the spirit of Ethan and his team, their soulful, delicious food, and the vitality of their restaurants in the great city of Seattle."
—David Kinch, James Beard Award–winning chef and owner of Manresa
 
"Ethan is a true chef's chef. He has a great respect for the seasons, the farms, and the fishermen who supply him, which is reflected in his restaurants and in the dishes he prepares."
—David Pasternack, chef-owner of Esca and author of The Young Man and the Sea: Recipes and Crispy Fish Tales from Esca
 
"Ethan Stowell is a northwestern jewel is every epicurean sense of the word. His influence on the Seattle food scene is unmistakable, and his personal take on Italian food is at once sophisticated yet simple and understated--a delectable combination. I appreciate Ethan's intrinsic wine savvy; his food seamlessly matches at the table, creating memorable and delicious pairings."
—Evan Goldstein, author of Perfect Pairings and Daring Pairings
 
"Ethan's passion for fresh and delicious food has been a staple at his restaurants for years, and the craftsmanship in his dishes is a testament to his drive for serving soulfully inspired foods. Now the world can take a glimpse into the mind and recipes that have set Ethan apart from the rest."
—Chris Cosentino, executive chef of Incanto