Purry Logic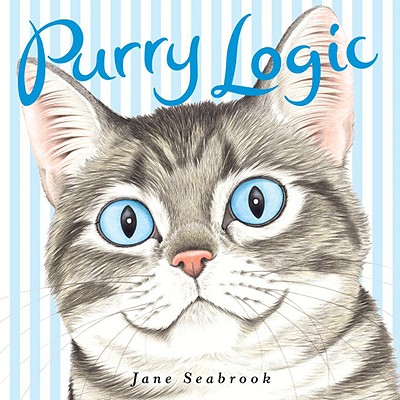 Purry Logic
Ten Speed Press, Hardcover, 9781580089043, 72pp.
Publication Date: October 2008
* Individual store prices may vary.
Buy Now
or
Shop Local
Enter your zip code below to purchase from an indie close to you.
Description
An all-new, all-feline collection of adorable illustrations, humorous sayings, and unadulterated cattitude from the creator of FURRY LOGIC.
Filled with wry witticisms to perk up even the most finicky cat lovers, PURRY LOGIC puts a distinctly feline twist on Jane Seabrook's popular FURRY LOGIC books. This delightful collection presents cuddly cats offering purr-worthy pick-me-ups like, "My only purpose in this life is to rest and recover from my previous lives," "If you didn't make the rules, just ignore them," and "When fat, arrange yourself in slim poses." Watercolor-painted in loving detail, Seabrook's sleek and sassy kitties remind us that the best things in life are furry.
Attention Bloggers: Our holiday giveaway is now closed Thanks so much to all the bloggers who read, loved, reviewed, and gave away the book to their readers Reviews"Cat lovers rejoice ... Jane Seabrook gives readers inspiring words to live by alongside the cutest images of kitties."--Complete Woman "The Best Understanding of a Feline Mind Award goes to author/illustrator Jane Seabrook...guaranteed to put a smile on your face."--Cat Fancy "Good for a few moments of real pleasure and cheer...enjoyable by people of all ages and circumstances."--Louisville Courer Journal.
About the Author
Jane Seabrook is an independent illustrator and designer who lives in Auckland, New Zealand. In recent years, her artwork has centered on carefully observing and painting wildlife. Jane's previous books include "Furry Logic" and "Furry Logic Parenthood", both of which reflect her considerable artistic abilities and rich sense of humor. The author shares her life with a number of animals, her husband, and two teenage children.