Organizing Plain & Simple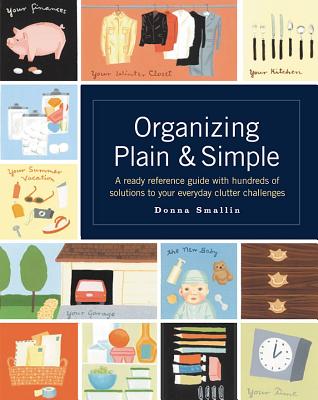 Organizing Plain & Simple
Storey Books, Paperback, 9781580174480, 309pp.
Publication Date: August 15, 2002
* Individual store prices may vary.
Buy Now
or
Shop Local
Enter your zip code below to purchase from an indie close to you.
Description
Desk drowning in papers? No room for the car in the garage? Santa still sitting on the roof in May?The home office swallows up whole rooms, as does the family computer station. Then there are the cell phone chargers, the remotes, and the play areas, not to mention our collections -- books, DVDs, toys, magazines. Time management experts agree that when the minor things that take up space in the mind are eliminated, there is room to think about the big things. The same goes for the home. The clarity that comes from de-cluttering rooms, finances, and time promotes mental clarity, peacefulness, and contemplation. When everything is organized, it is easier to enjoy the meaningful things in life.
"Organizing Plain & Simple "is like a course from an expert teacher, grounded in the fundamentals and enriched with philosophy, tips, anecdotes, illustrations - everything necessary to make home and life run more smoothly. Donna Smallin takes a personalized, nonjudgemental approach to explaining how to assess each individual's situation and suggesting where to start organizing - room by room - and then covers how to stay organized. Then she offers advice on organizing time and finances, as well as organizing for the seasons and for special events - the birth of a baby, combining households, a move, kids going off to college, successful downsizing. Smallin presents a broad range of innovative solutions in the running feature "One Challenge, Three Solutions" that includes tips for solving classic organizational issues from a wide range of professional organizers.
About the Author
Donna Smallin is the author of seven Storey titles with a total of more than 928,000 copies in print. She is a frequent contributor to major national women s and home magazines and has been a guest on the "CBS Early Show", Better TV, HGTV, CNN, and Fox & Friends, as well as numerous radio programs. For the past decade, Smallin has been a spokesperson for such companies as Bissell, Kaboom, Staples, 3M, Keurig, and others. She blogsat unclutter.com.