Cherry Hill's Horsekeeping Almanac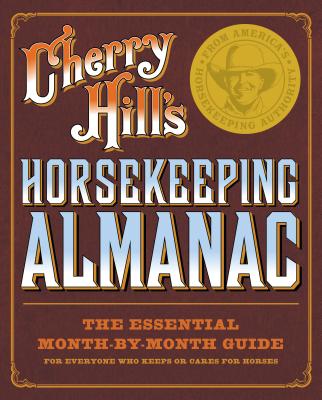 Cherry Hill's Horsekeeping Almanac
The Essential Month-By-Month Guide for Everyone Who Keeps or Cares for Horses
Storey Publishing, Paperback, 9781580176842, 576pp.
Publication Date: October 1, 2007
* Individual store prices may vary.
Buy Now
or
Shop Local
Enter your zip code below to purchase from an indie close to you.
Description
Keeping horses healthy and happy is all about establishing good routines and following the natural cycles of the animals and the land. Nobody knows this better than Cherry Hill, professional horsekeeper, lifelong horse lover, and author of more than 30 books on horses. If it involves horses, Hill knows what to do and when to do it. Her routines daily, monthly, and seasonal are the framework for Cherry Hill's "Horsekeeping Almanac," a gold mine ofknowledge for all horse enthusiasts.Month by month, Hill touches on every issue likely to affect horses, horse farms, and the people who care for them both. Each month opens with a brief description of what's happening on the farm, followed by notes on specific, month-appropriate topics. May, for example, includes advice on grazing, snakes, composting, bathing and clipping, and fire strips. November features colic, fire ants, winter water, dry shampoo, and outdoor horse clothing.Every month includes recurring reminders, to-do lists, reference charts, climate notes, equine wit and wisdom, a word of the month, and an "Ask Cherry" section featuring seasonally relevant excerpts from her newsletter all the fascinating tidbits, lore, and handed-down insights that make almanacs so fascinating. Tying everything together is Cherry Hill's trusted voice and deep-seated knowledge of horses.This is a book readers will keep on hand to welcome each new season on the farm. Horsekeepers will browse it frequently, use it as a reference in times of doubt, keep reminders in it, and come back to it year after year a reminder of their own horsekeeping seasons. It will become, in Cherry Hill's words, a Horsekeeping Master Plan.
About the Author
Cherry Hill is an internationally known instructor and horse trainer and has written numerous books, including "101 Arena Exercises for Horse & Rider, Horsekeeping on a Small Acreage, How to Think Like a Horse, What Every Horse Should Know, "and "Horse Care for Kids""."Visit her at www.horsekeeping.com, where you can find information on her books, DVDs, and horsekeeping knowledge.