The Complete Compost Gardening Guide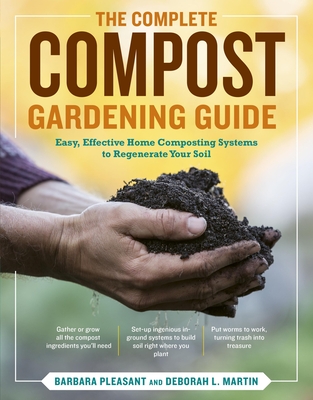 The Complete Compost Gardening Guide
Storey Publishing, Paperback, 9781580177023, 319pp.
Publication Date: March 1, 2008
* Individual store prices may vary.
Buy at Local Store
Enter your zip code below to purchase from an indie close to you.
or
Buy Here
Description
Barbara Pleasant and Deborah L. Martin turn the compost bin upside down with their liberating system of keeping compost heaps right in the garden, rather than in some dark corner behind the garage. The compost and the plants live together from the beginning in a nourishing, organic environment. The authors' bountiful, compost-rich gardens require less digging, weeding, mulching, and even less planting. And here's one of the best parts no more backbreaking slogs from compost bin to garden. The authors even identify the plants that benefit most from compost and how the elements of a composted garden work together.
A natural Six-Way Compost Gardening System provides the ruling principles for successfully improving every garden with healthy compost. Readers will learn how to:
1. Choose labor-saving sites that keep gardens and compost piles as close to one another as possible.
2. Work with the compostable riches produced at home. Every yard and kitchen produces plenty of material easily identified with at-a-glance charts for a great start.
3. Help composting critters do their work by balancing ingredients, adding high-nitrogen meals when needed, and keeping the compost moist.
4. Reuse recycling bin items, such as large plastic buckets and cardboard boxes, as composting equipment.
5. Keep diversity in the mix. The magic is in the variety of the components and how they work together to create "gardener's gold."
6. Customize composting to suit specific garden needs, always concentrating first on soil care.
Adhering to these guidelines, Pleasant and Martin bring readers on a thorough, informative tour of materials and innovative techniques, leading the way to an efficient and rewarding home gardening system. Their methods are sure to help gardeners turn average vegetable plots into rich incubators of healthy produce, bursting with fresh flavor, and flower beds into rich tapestries of bountiful blooms all season long.
About the Author
Barbara Pleasant has been covering organic gardening and self-sufficient living for more than 30 years. A contributing editor to "Mother Earth News", Pleasant has garnered multiple awards from the Garden Writers Association and the American Nursery and Landscape Association. She has written books on topics ranging from compost to weeds, including "Plant to Preserve", "Starter Vegetable Gardens, The Complete Compost Gardening Guide" (with Deborah L. Martin), "The Complete Houseplant Survival Manual, The Gardener s Bug Book, The Gardener s Weed Book, The Gardener s Guide to Plant Diseases, " and "Garden Stone." Her columns and articles appear regularly in "Mother Earth Living" magazine and at GrowVeg.com and on other informational websites"." Pleasant lives in Virginia, where she grows vegetables, herbs, and fruits along with a few chickens, who all have names. Her website is barbarapleasant.com.

Deborah L. Martin is a freelance editor and writer who has made appearances as a gardening expert on HGTV and elsewhere. Previously she spent more than a decade at Rodale as a garden book editor and was the project editor for The Backyard Bird Feeder's Bible and Stokes' Backyard Bird Book. An avid amateur birdwatcher, she lives near Allentown, Pennsylvania.