Mystery Midrash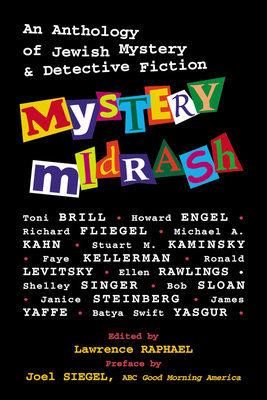 Mystery Midrash
An Anthology of Jewish Mystery & Detective Fiction
Jewish Lights Publishing, Paperback, 9781580230551, 299pp.
Publication Date: August 1, 1999
* Individual store prices may vary.
Buy Now
or
Shop Local
Enter your zip code below to purchase from an indie close to you.
Description
Confront murder, mayhem and your own mysteries of being.
From a corporate giant's kidnapping of a rabbi, to the disappearance of the clarinetist in a klezmer band, to four rabbis' use of their text interpretation skills to help a detective solve a murder that one of them has committed, this unique collection of mysteries will enlighten you at the same time it intrigues and entertains.
While featuring enough death and deception to keep the detective protagonists on their toes, each story presents the uncertainties that are a part of contemporary Jewish identity inviting us all to confront our own mysteries of being. Throughout the stories' tangled puzzles and suspenseful adventures, the characters solve not only the "whodunit"-type mysteries, but also struggle to solve the mystery of their spiritual lives.
Mystery Midrash will be a lasting delight for mystery buffs of all faith traditions.
Contributors include:
Joel Siegel Lawrence W. Raphael Toni Brill Howard Engel Richard Fliegel Michael A. Kahn Stuart M. Kaminsky Faye Kellerman Ronald Levitsky Ellen Rawlings Rabbi Bob Sloan Janice Steinberg James Yaffe Batya Swift Yasgur.
About the Author
Lawrence W. Raphael is a rabbi and author as well as the Senior Rabbi at Congregation Sherith Israel in San Francisco. He has written articles about Jewish identity in detective fiction, and lives in San Francisco, California.

McGraw-Hill authors represent the leading experts in their fields and are dedicated to improving the lives, careers, and interests of readers worldwide