Every Bone Tells a Story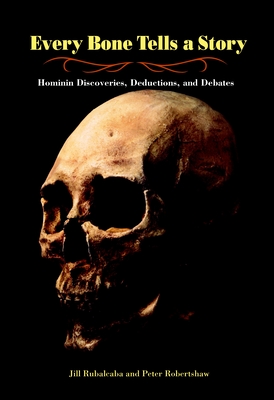 Every Bone Tells a Story
Hominin Discoveries, Deductions, and Debates
Charlesbridge Publishing, Hardcover, 9781580891646, 185pp.
Publication Date: February 1, 2010
* Individual store prices may vary.
Buy Now
or
Shop Local
Enter your zip code below to purchase from an indie close to you.
Description
Jill Rubalcaba and Peter Robertshaw recount the unearthing of four hominins--Turkana Boy, Lapedo Child, Kennewick Man, and Iceman. Each discovery leads not only to deductions that scientists made in laboratories, but also to controversial debates over the scientists' differences of opinion over how, or even if, the pieces fit together.

Learn how specialized the field of archaeology has become and how new technology can change both scientists' theories and the way we view the past.
About the Author
Jill Rubalcaba, author of A PLACE IN THE SUN, UNCEGILA'S SEVENTH SPOT, and ST. VITUS' DANCE, lives in Haddam, Connecticut.

Peter Robertshaw is an archaeologist and professor of anthropology at California State University, San Bernardino. His research focuses on the later prehistory and precolonial history of sub-Saharan Africa and has been supported by the National Science Foundation, the National Geographic Society,
and the National Endowment for the Humanities.
Jill Rubalcaba began her working life as a college- and high-school mathematics teacher, all the while continuing to go to school to study more math, writing, and business. Later she worked as an engineer on the Patriot Missile. Ms. Rubalcaba is grateful to her children, Kelly and Dan, for showing
her the joys of writing for children. Jill Rubalcaba is the author of several books for young adults, including The Wadjet Eye, Place in the Sun, and The Early Human World.

Praise For Every Bone Tells a Story…
"[T]his is an excellent look at an engaging area of science that should find broad readership and use."
--School Library Journal

"Exceptionally well written, the book provides an exciting read that makes the joy of being a scientist come alive."
--Science