No Monkeys, No Chocolate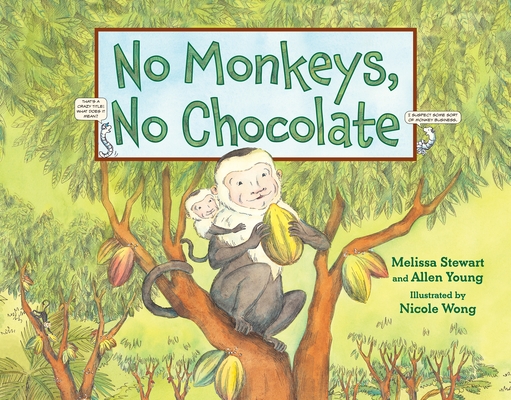 No Monkeys, No Chocolate
Charlesbridge Publishing, Hardcover, 9781580892872, 32pp.
Publication Date: August 1, 2013
* Individual store prices may vary.
Buy at Local Store
Enter your zip code below to purchase from an indie close to you.
or
Buy Here
Description
Everyone loves chocolate, right? But how many people actually know where chocolate comes from? How it's made? Or that monkeys do their part to help this delicious sweet exist?

This delectable dessert comes from cocoa beans, which grow on cocoa trees in tropical rain forests. But those trees couldn't survive without the help of a menagerie of rain forest critters: a pollen-sucking midge, an aphid-munching anole lizard, brain-eating coffin fly maggots—they all pitch in to help the cocoa tree survive. A secondary layer of text delves deeper into statements such as "Cocoa flowers can't bloom without cocoa leaves . . . and maggots," explaining the interdependence of the plants and animals in the tropical rain forests. Two wise-cracking bookworms appear on every page, adding humor and further commentary, making this book accessible to readers of different ages and reading levels.

Back matter includes information about cocoa farming and rain forest preservation, as well as an author's note.
About the Author
Dr. Melissa Stewart is founder and Executive Director of the Organization of Patient Educators. Using her patient-centered Medagogy approach the conceptual framework discussed in Practical Patient Literacy she has effectively taught health care professionals how to improve their education and communication techniques.
Dr. Stewart is on the faculty at Our Lady of Lake College, and also serves as Director of Education at eQHealth Solutions, the Medicare Quality Organization for Louisiana. She received her Doctorate of Nursing Practice from Case Western Reserve University in Cleveland, and completed her Masters in Education at the University of Louisiana at Lafayette. She is a Registered Nurse and Certified Patient Educator.
In 2010, Dr. Stewart authored a resolution making health literacy a major initiative for the American Nurses Association. Dr. Stewart s patient literacy work and her UPP tool were used in a Center of Medicare and Medicaid Services (CMS) pilot program administered by eQHealth. That project resulted in special recognition from the CMS for its leadership role in Care Transitions.
Allen Young, who has taught at Tufts University and the University of Massachusetts, is the author of "Gays Under the Cuban Revolution". With Karla Jay, he has co-authored "The Gay Report and co-edited Lavender Culture
NICOLE WONG's illustrations have appeared in magazines and in children's educational and trade books. Wong was drawn to the story in Only One Year because it presented a Chinese American experience that was different from her own.