The Women's Book of Healing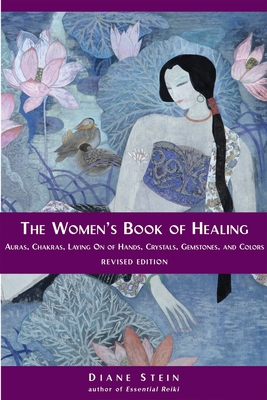 The Women's Book of Healing
Crossing Press, Paperback, 9781580911566, 328pp.
Publication Date: May 19, 2004
* Individual store prices may vary.
Buy at Local Store
Enter your zip code below to purchase from an indie close to you.
or
Buy Here
Description
Women are naturally healers. Throughout time, they have performed curative roles as mothers, midwives, caregivers, and wisewomen, but modern medicine has suppressed this important tradition. Ancient women healers knew that the body is more than what is seen: through body, emotions, mind, and spirit, we can connect with the Goddess and actively choose to heal ourselves and others. By relearning and using ancient skills like aura and chakra work, creative visualization, meditation, laying on of hands, psychic healing, and working with crystals and gemstones, women can prevent or transform many dis-eases of the body and spirit before they become matters for modern medicine. In THE WOMEN'-?S BOOK OF HEALING, Diane Stein, author of the best-selling ESSENTIAL REIKI, demystifies, explains, and teaches these skills in ways that modern women can learn and use. She first introduces basic healing, then applies those skills to healing with crystals and gemstones-a beautiful, effective, and empowering aspect of the ancient woman'-'s healing methods. A comprehensive guide from a knowledgeable healer, THE WOMEN'-?S BOOK OF HEALING proves that well-being is within a woman'-'s choice and natural abilities, and reaffirms her timeless role as healer of herself and others.An affirmation of woman'-'s traditional role as healer, speaking to a national trend toward alternative medicine and natural healing methods.Demystifies, explains, and teaches the healing capabilities of auras, chakras, laying on of hands, crystals, gemstones, and colors.Thoroughly revised and updated, with a new introduction.Diane Stein'-'s books have sold more than 600,000 copies.
About the Author
Involved with the women's movement and women's spirituality almost from their beginnings, she is a healer, psychic, witch and priestess of the Goddess craft, and a writer whose work has been known since 1969. An activist in women's rights, gay rights, disability rights, and anti-war movements, her work has focuses on inter-relating these issues with women's spirituality and on using her quests for knowledge and education.

Diane Stein was born on September 22, 1948 and holds an MA in English Literature from the University of Pittsburgh, and a BS degree in Education and English from Duquesne University.

Praise For The Women's Book of Healing…
A knowledgeable, insightful book, filled with the miracles of our bodies and powers of our mind. Gems and crystals, the gifts of the earth, are truly the trusted old friends of self-healing. Diane Stein, you have done it again! Brava!-Z Budapest