The Reiki Magic Guide to Self-Attunement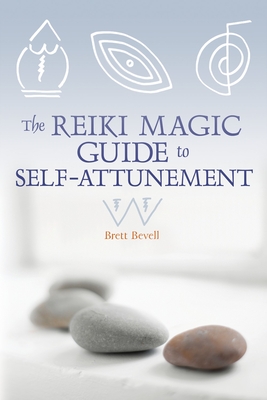 The Reiki Magic Guide to Self-Attunement
Crossing Press, Paperback, 9781580911849, 150pp.
Publication Date: September 1, 2007
* Individual store prices may vary.
Buy at Local Store
Enter your zip code below to purchase from an indie close to you.
or
Buy Here
Description
Reiki tradition dictates that you must be initiated-or attuned-by a Reiki master before properly practicing this healing art of energy flow. Now, in this revolutionary guide, Reiki Master Brett Bevell breaks with convention and extends the transformative powers of Reiki to all by presenting at-home rituals for self-attunement. In the true healing spirit of Reiki, Bevell encourages creativity and experimentation with the practice, allowing you to personalize Reiki for everyday use. With twenty-one symbols to empower the flow of Reiki, as well as chants for attuning candles, stones, and even the water in your bath or washing machine, this is Reiki as you'-?ve never seen it before: available to everyone, for use in all aspects of life, as Reiki was always meant to be.
About the Author
Since receiving his Reiki master initiation in 1995, Brett Bevell has dedicated himself to discovering new Reiki techniques that work collaboratively with the higher self. These simple techniques are not only highly effective, but also shift Reiki into a practice of daily living that can transform even the most mundane aspects of our lives into works of healing. He lives in the US.
Praise For The Reiki Magic Guide to Self-Attunement…
"As a spiritual healer and a devoted Reiki lover I feel I have been waiting for this book my whole life. When I opened it and started seeing the extended symbols, and was able to see the different suggested exercises, I felt totally at home. The author has written a book that I believe to be divinely channeled and a must for this world and the people in it.Reiki is a wonderful energy that I feel belongs to all of us and I got pretty sad when I saw the rules and limitations that have been put on it over the years. I enjoyed the gentle loving flow of the great mentor and I was completely taken with the idea of attuning crystals, candles and other neat stuff. I would recommend this awesome teacher to anyone who has ever been drawn to Reiki I believe it holds a lot of the answers we have all been seeking and it has definitely made its way to my spiritual toolbox. Thanks so much Brett, for helping to return our birthright to us."-Riki Frahmann www.mysticlivingtoday.com"Brett Bevell is a remarkable poet and Reiki Master. This book is his ode to a universal energy available to everyone."-John Perkins, New York Times best-selling author of Confessions of an Economic Hit Man, Shapeshifting, and Psychonavigation"The most comprehensive book I have seen on the art of Reiki. A must-read!"-Marc Grossman, OD, LAc, author of the Magic Eye series and Greater Vision: A Comprehensive Program for Physical, Emotional, and Spiritual Clarity "This book will transform you. Brett Bevell teaches us how to shift every aspect of life, from the food and water we put into our bodies to the past, present, and future."-David Morehouse, PhD, author of Psychic Warrior