Private Gardens of Connecticut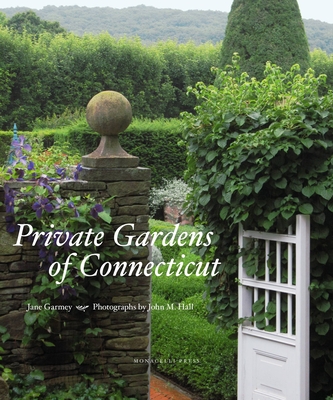 Private Gardens of Connecticut
Monacelli Press, Hardcover, 9781580932417, 232pp.
Publication Date: September 28, 2010
* Individual store prices may vary.
Buy Now
or
Shop Local
Enter your zip code below to purchase from an indie close to you.
Description
Connecticut is uniquely rich in beautiful landscape, encompassing more than six hundred miles of serene shoreline along Long Island Sound, untold acres of open farmland, and the rolling hills and lakes of the famed northwest corner on the New York/Massachusetts border. The varied topography and microclimates have given rise to an unusual range of gardens.
Twenty-eight are presented here, a rare and privileged glimpse of the private retreats of prominent members of the fashion, design, arts, and business communities. Some are grand in scale, others exceedingly modest, but all have been cared for and tended with great love. None of these gardens was made overnight and many have taken years to come to fruition. The garden of the Greek god Adonis may have one day blossomed and fruitful were the next, but not any of the gardens featured in this book.
In an engaging and highly anecdotal text, Jane Garmey tells the story of the creation of the gardens and the pleasure the owners take in them while John Hall's magnificent photographs of sumptuous flowers and luxuriant foliage bring them to life.
About the Author
Jane Garmey, who is British is currently producing a public televisionseries on the arts for children. The author of Great New British Cooking, shefrequently writes about food.

John Hall can still remember the first book he ever read. It was Harry The Dirty Dog. Since that day, he's always loved reading. When he was in fifth grade, he decided he was going to be a writer when he grew up and wrote his first novel, The Mystery of the Leopard's Eyes (unfortunately, it was never published and to this day, still sits in his desk drawer). But years later he did become a published author. John grew up in Brooklyn, with a younger brother and twenty-one cousins (yes, 21!), but now lives in New York City.
Praise For Private Gardens of Connecticut…
"Private Gardens of Connecticut celebrates the beauty and bounty of summer and gives us something to look forward to and contemplate."
—New Haven Register

"[John] Hall's photographs do unfold in a way that one has a sense of strolling through each garden."
—Hartford Courant

"I have always quietly believed that Connecticut should be renamed The Gardening State for the sheer number of impressive gardens on it's varied landscape. This book confirms that belief. [It is] written with remarkable insight and lavishly illustrated with photos."
—Moffly Media

"Garmey . . . has an autodidact's curiosity, which is reflected in the thoughtful text that is filled with the sorts of juicy bits that you normally only pick up on a garden tour."
—Rural Intelligence