Ainu Dreams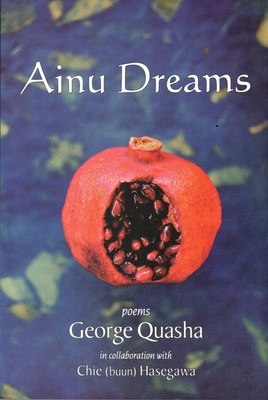 Ainu Dreams
Barrytown Limited, Paperback, 9781581770537, 144pp.
Publication Date: May 1999
* Individual store prices may vary.
Shop Local
Enter your zip code below to find indies closest to you.
Description
In Ainu Dreams, poet George Quasha and buun, a Japanese artist living in America, collaborate in poetically manifesting the artist's richly articulated dream-life. These eighty-odd poems embody an ever-opening cosmos of curious image, surprising narrative, and enigmatic teaching in a language no one could have dreamed up alone. Structurally intriguing poems reveal the innards of the dreams themselves, yet always speak directly and readably, sometimes addressed to a second person (the poet? the reader?). The poems and even reading itself seem to be dreaming. Poet and dreamer both live in New York's Hudson Valley.
About the Author
George Quasha's work as a poet, including Somapoetics (1973) and AINU DREAMS (1999) among others, has steadily broadened to explore principles in common within language, sculpture, drawing, video, sound, installation, and performance. Preverbs, of which VERBAL PARADISE is the first book, has been a core vehicle of this exploration. His recent Axial Stones: An Art of Percarious Balance, foreword by Carter Ratcliff (2006), focuses on sculpture, drawing, and language (as text and installation) shown at the Baumgartner Gallery (Chelsea), Slought Foundation (Philadelphia), the Samuel Dorsky Museum of Art (SUNY New Paltz), and elsewhere. His axial video works with language, sound, and portraiture, including art is: Speaking Portraits, recording over 800 artists, poets, and musicians in eleven countries (saying what art/music/poetry is) and exhibited internationally at museums, galleries, and universities. Awarded a Gugenheim Fellowship in video art and an NEA Fellowship in poetry, the latest of his twenty books is An Art of Limina: Gary Hill's Works and Writings (with Charles Stein; foreword by Lynne Cooke) (2009). Co-founder and -publisher with Susan Quasha of Station Hill Press of Barrytown, New York, he performs both solo and in collaboration with Gary Hill, Charles Stein, and David Arner.