Useful Knowledge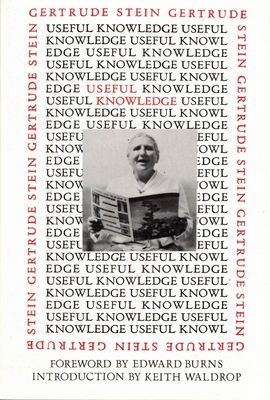 Useful Knowledge
Barrytown Limited, Paperback, 9781581770766, 207pp.
Publication Date: September 2001
* Individual store prices may vary.
Shop Local
Enter your zip code below to find indies closest to you.
Description
Useful Knowledge is pleasant and therefore it is very much to be enjoyed, writes Gertrude Stein in her Advertisement for this Book-an apt characterization of the experience of reading it sixty years after its disappearance from print. Despite her long expatriation, she always remained in her words, firmly born in Allegheny Pennsylvania. Indeed- physical detachment from her homeland seems only to have deepened her love for the country, a passion very nearly erotic, that blossomed in this private remembrance that is both tender and humorous. War, Woodrow Wilson, Chicago, Sherwood Anderson-such is the range of her intimate concerns. As for the significant questions to which her writings respond: Wherein Iowa differs from Kansas and Indiana and Wherein the South differs from the North, useful knowledge indeed, when the thought is opened along with the word in these extraordinary prose inventions. Keith Waldrop's introduction furnishes new insight into the process and development of Stein's infamous style as always more intricately evolving than is recognized. And Edward Burns provides useful knowledge about Useful Knowledge, the kind of information about Stein's text that we rarely find when we most want it.
About the Author
Gertrude Stein (1874-1946) was a major literary figure at the center of a circle of expatriate writers and artists living in Paris during the early decades of the twentieth century. She is the author of "Three Lives, Tender Buttons, " and "The Making of Americans, " among other works. "The Autobiography of Alice B. Toklas" was a best-seller in the United States. Joan Retallack is John D. and Catherine T. MacArthur Professor of Humanities at Bard College. She is the author of many books, including "Afterrimages, How To Do Things With Words, " and "The Poethical Wager" (UC Press).

Edward Burns is Senior Lecturer in the Department of English Language and Literature, University of Liverpool.


Keith Waldrop, Brooke Russell Astor Professor of Humanities at Brown University, has published more than a dozen works each of original poetry and translations. His first book, "A Windmill Near Calvary, " was shortlisted for the 1968 National Book Award. Recent books include "The Real Subject: Queries and Conjectures of Jacob Delafon, with Sample Poems, The House Seen from Nowhere, " and a translation of "The Flowers of Evil "by Charles Baudelaire.