Black Gold Stranglehold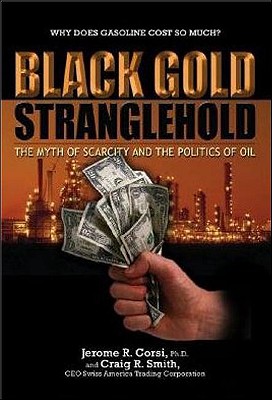 Black Gold Stranglehold
The Myth of Scarcity and the Politics of Oil
Cumberland House Publishing, Hardcover, 9781581824896, 301pp.
Publication Date: October 14, 2005
* Individual store prices may vary.
Buy Now
or
Shop Local
Enter your zip code below to purchase from an indie close to you.
Description
Experts estimate that Americans consume more than 25 percent of the world's oil but have control over less than 3 percent of its proven oil supply. This unbalanced pattern of consumption makes it possible for foreign governments, corrupt political leaders, terrorist organizations and oil conglomerates to hold the economy and the citizens of the United States in a virtual stranglehold. There is no greater proof of this than the direct relationship between skyrocketing gas prices and the explosion of wealth among those who control the world's supply of oil. In Black Gold Stranglehold, Jerome R. Corsi and Craig Smith expose the fraudulent science that has made America so vulnerable: the belief that oil is a fossil fuel and that it is a finite resource.
About the Author
Dr. Jerome Corsi received a Ph.D. from Harvard University in political science in 1972. He is the author of the #1 "New York Times" bestseller "The Obama Nation: Leftist Politics and the Cult of Personality" and the co-author of "Unfit for Command: Swift Boat Veterans Speak Out Against John Kerry", which was also a #1 "New York Times" bestseller. He is a regular contributor to WorldNetDaily.com.

A monetary expert Mr. Smith is the author of six books on the topics of; gold, oil, the dollar and inflation, including; The Great Debasement: The 100-Year Dying of the Dollar and How to Get America'sMoney Back (2012) Inflation Deception: Six Ways Government Tricks Us. and Seven Ways to Stop It!(2011) Crashing The Dollar: How to Survive a Global Currency Collapse (2010). Black Gold Stranglehold(2005) and Rediscovering Gold (2001).