De Niro's Game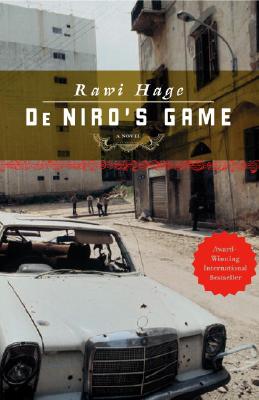 De Niro's Game
Steerforth, Hardcover, 9781581952230, 280pp.
Publication Date: August 21, 2007
* Individual store prices may vary.
Buy at Local Store
Enter your zip code below to purchase from an indie close to you.
or
Not Currently Available for Direct Purchase
Description
WINNER OF THE 2008 INTERNATIONAL IMPAC DUBLIN LITERARY PRIZE

De Niro's Game plunges readers into the timely story of two young men caught in Lebanon's civil war. Bassam and George, best friends in childhood, have grown to adulthood in war-torn Beirut. Now they must choose their futures: to stay in the city and consolidate power through crime, or to go into exile abroad, alienated from the only existence they have known. Told in a distinctive, captivating voice that fuses vivid cinematic imagery and page-turning plot with the measured strength and beauty of Arabic poetry, De Niro's Game is an explosive portrait of life in a war zone, and a powerful meditation on what comes after.
About the Author
Rawi Hage was born in Beirut and lived through nine years of the Lebanese civil war. In 1992 he moved to New York City, working there for several months before emigrating to Canada, where he has lived ever since. He is a writer, a visual artist, and a curator. His writings have appeared in Fuse, Mizna, Jouvert, The Toronto Review, Montreal Serai, and Al-Jadid. His visual works have been shown in galleries and museums around the world. He resides in Montreal.
Praise For De Niro's Game…
WINNER OF THE 2008 INTERNATIONAL IMPAC DUBLIN LITERARY AWARD

"A remarkable novel" — Los Angeles Times

"Beirut-born author Rawi Hage, also a renowned visual artist, makes a striking debut as a novelist with this uncompromising take on the age-old tale of young pals taking divergent paths toward their destinies. Straddling the line between literary and genre fiction, Hage's exhilarating prose depicts war-torn Lebanon during the 1980s and his young protagonists' dark and dreamy obsession with American movies(the title is a reference to "The Deer Hunter"). The book won truckloads of awards in Canada (where Hage now lives) and will probably do the same here."
— The San Francisco Chronicle

"In a shattering vision of the eternal return, Rawi Hage takes us back to a point in recent memory when it was not Iraq but Lebanon that burned in the hellfire of war, as foreign bombs rained destruction from above while fratricidal terrorism reigned in the streets; a time when not Baghdad but Beirut was shorthand for the utter and awful collapse of civilization into savagery.
De Niro's Game Hage's gripping first novel, tracks the fortunes of two young friends, Bassam and George, Beirut Christians trying to survive in this cauldron of brutality and terror. The only choices they see are to join the fighting, to make a break for exile, or to become - they embrace the term - thugs, living off threats, bravado, and whatever they can steal...
Hage, himself a Lebanese refugee now living in Canada, brings a fierce poetic originality to a tragically familiar story, evoking Bassam's psychological disintegration in a downpour of hallucinatory imagery: Hollywood noir meets opium dreams in a blasted landscape of war-wasted young lives."
— The Boston Globe

"This aggressive, prize-winning Canadian import debut recounts the fate of two childhood friends in war-ravaged Beirut. Hage's energetic prose matches the brutality depicted in the novel without overstating the narrative's tragic arc - an impressive first outing for Hage." — Publishers Weekly (starred review)

"East meets West in this stunning first novel yielding a totally fresh perspective on war-torn Bierut. Both terse and lyrical, Hage's narrative is a wonder, alternately referencing modern American action heroes and ancient Arabic imagery. The blend of the two is as startling as it is beautiful." — Booklist (starred review)

"I am reminded of Hemingway, who wrote about men's conflicting allegiances to desire, ambition and principle. His men often went to war and saw its stage with outsider's eyes. In De Niro's Game, the characters are insiders, and they act with a passion that can only come to those who are of that place. They have not gone to war — it has enveloped their lives in this stunning novel about violence and choice in our world."
—Vincent Lam, Scotiabank Giller Prize winner for Bloodletting and Miraculous Cures, in The Globe and Mail

" Hage brilliantly condenses these short, incendiary lives: while the setting is relatively contemporary, the conflict and language are centuries old."

—The Guardian

"De Niro's Game is the most subtly nuanced, psychologically compelling book about the corrosive effects of war to have been written for a long time."
— The Financial Times

"Rawi Hage's debut novel burns with a white-hot brilliance. With rhythms and imagery reminiscent of epic Arabic poetry, Hage lays bare the chaos that war unleashes in the souls of those who must live in its maelstrom."
— The Charlotte Observer

"In the rough, intense De Niro's Game, debut novelist Rawi Hage's native Beirut circa 1982 is soaked in history. The civil war's horrors, which include torture, maimed dogs, and the titular Russian roulette (George's nickname is De Niro: think Deer Hunter) are palpably drawn, as is the tragedy of adolescent innocence run aground. Hage's style is hallucinatory, and as you read and reread his gorgeous, grandiose, melancholy catalogs of destruction, you'll find it hard not to think of the fevered dream of Howl. But Hage tempers his poetry with an acerbic tone that perhaps comes from having survived hell on earth." —The Village Voice

"De Niro's Game does for Christian East Beirut what Ziad Doueiri's much-acclaimed film West Beirut did for the predominantly Muslim half of the Lebanese capital. . . . Hage eerily conjures up the paralytic terror experienced by densely populated neighborhoods when pummeled by indiscriminate shelling. . . [and] skillfully evokes the contradictions of Lebanese culture and the madness of wartime Beirut through arresting visual imagery and a sensitive probing of communal sentiment. Haunting descriptions of Armenians who survived the 1915 Turkish massacres and found refuge in Lebanon, passing references to neighborhoods populated by Syriacs and one character's stark reminder that Christians in Lebanon should remain vigilant lest they end up like their counterparts in Egypt all provide readers with a glimpse into the siege mentality of East Beirut."
— The Miami Herald

"Canadian writer Rawi Hage grew up in Beirut during the late '70s and early '80s, a time when the relentless bombing and geopolitical gamesmanship attendant with Lebanon's civil war made the word "Beirut" a kind of shorthand for pointless urban destruction. In his first novel, De Niro's Game, Hage uses his native city as a canvas on which he paints a gorgeous and revolting portrait of living with war. His subject is fascinating, but more compelling is how he carves out a writing style that mixes modern Mideast horrors with American movie imagery and Arabic poetic tradition. Hage … revels in the poetry of language. Hage's prose is at once starkly realistic yet thrillingly alive with dark fancy, as if Kahlil Gibran smoked hash with Hunter S. Thompson, stumbled bleary-eyed through the city, and freestyled for whomever might care…. Critics rightly acclaimed De Niro's Game when it was published in Canada last year. But what it's about—harsh life amid urban warfare—wrongly overshadows what it is—a soaring, lyrical triumph. Hage is surely unloading autobiographical sensations from his homeland. But this novel isn't reportage; it's troubling and transcendent art."
— Washington City Paper

"A novel of friendship, betrayal and the bonds of family that unfolds in an extraordinary landscape—contemporary West Beirut, a place ruled by warlords. It is the story of two young men with very limited options (join a militia or get out) living in a world of constant violence. De Niro's Game is more informative than any news account of life in an urban Middle Eastern war zone. It's an up-close personal look at a world that seems infinitely distant from our own. Of course, it's no longer that distant from our neighborhoods." — Tasha Port at Shaman Drum Bookstore, Ann Arbor MI