Tales of the Cryptids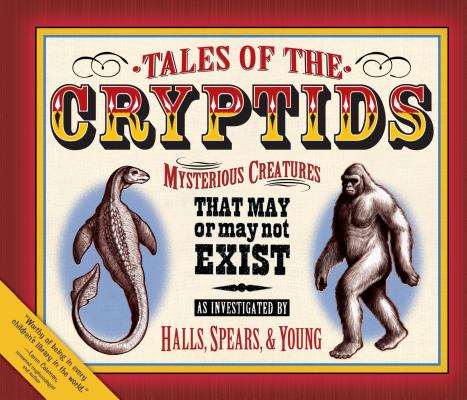 Tales of the Cryptids
Mysterious Creatures That May or May Not Exist
Darby Creek Publishing, Hardcover, 9781581960495, 72pp.
Publication Date: June 1, 2006
* Individual store prices may vary.
Buy at Local Store
Enter your zip code below to purchase from an indie close to you.
or
Buy Here
Description
Cryptozoology is the study of animals that may or may not be real: familiar animals like Bigfoot and the Loch Ness Monster, and those that are less familiar like the Marozi of Kenya, the Orang-pendek of Sumatra and the Thylacine of Tasmania. Meet these and more in this introduction to cryptozoology.
About the Author
For the past 15 years, Kelly Milner Halls has crafted high interest nonfiction books and articles for young readers. Known for quirky but well researched topics, Halls delights in drawing even reluctant readers into the realm of discovery through the explorations of dinosaurs, Sasquatch, UFO's or dozens of other unusual themes. She makes her home in Spokane, WA with two daughters, one Pug, too many cats and a 4 foot iguana named Gigantor. She speaks at schools and conferences all over the country. Halls also works as YA novelist Chris Crutcher's assistant.
Rick Spears is the writer of BLACK METAL (ONI PRESS), TEENAGERS FROM MARS
(Gigantic Comics), as well as THE PIRATES OF CONEY ISLAND (Image Comics) and a recent stint on DETECTIVE COMICS (DC Comics). Spears currently lives in Brooklyn with his wife and kids.
Tim Seeley is the creator and writer of Devil Due's critical horror hit HACK/SLASH, soon to be a film from Universal Pictures, as well as the artist on NEW EXILES and WEAPON X: FIRST CLASS from Marvel Comics. He lives and works in Chicago, Illinois.
Los Angeleno Jim Mahfood is best known for Image Comic's GRRL SCOUT and his work on the CLERKS comic from Oni Press, based on the film directed by Kevin Smith. A recent graduate of Minneapolis College of Art & Design, Nikki Cook earned her BFA in Comic Art. Since then she has worked on DMZ for DC Comics and DOG'S DAY END for Top Shelf. She lives and works in Brooklyn, New York.
Born in Boston, Ming Doyle earned her BFA from Cornell University, and has worked on POPGUN and TORI AMOS: COMIC BOOK TATTOO for Image Comics, and ZOMBIE TALES for BOOM! Studios.