The Devil's Dictionary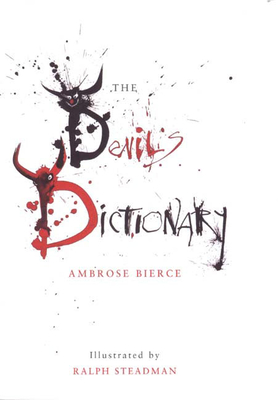 The Devil's Dictionary
Bloomsbury USA, Hardcover, 9781582343808, 192pp.
Publication Date: January 2004
* Individual store prices may vary.
Shop Local
Enter your zip code below to find indies closest to you.
Description
Bierce's classic work of satirical wit and Steadman's pointed pen redefine the way we see even the seemingly simplest of terms.
Acquaintance, n.: A person whom we know well enough to borrow from but not well enough to lend to.
Bride, n.: A woman with a great future behind her.
Consult, v: To seek another's approval of a course already decided on.
Ambrose Bierce's "dictionary" of epigrams, essays, verses, and vignettes targets the religious, the romantic, the political, and the economic, in equal measure. The book you need to define both friends and enemies, "The Devil's Dictionary" is also the perfect gift, showcasing Bierce's razor-sharp wit and Ralph Steadman's incisive pen to their best advantage.
About the Author
Ambrose Bierce was an American writer, critic and war veteran. Bierce fought for the Union Army during the American Civil War, eventually rising to the rank of brevet major before resigning from the Army following an 1866 expedition across the Great Plains. Bierce s harrowing experiences during the Civil War, particularly those at the Battle of Shiloh, shaped a writing career that included editorials, novels, short stories and poetry. Among his most famous works are An Occurrence at Owl Creek Bridge, The Boarded Window, Chickamauga, and What I Saw of Shiloh. While on a tour of Civil-War battlefields in 1913, Bierce is believed to have joined Pancho Villa s army before disappearing in the chaos of the Mexican Revolution.

RALPH STEADMAN was born in 1936. He began his career as a cartoonist, and through the years has diversified into many creative fields. Ralph collaborated with Dr Hunter S. Thompson in the birth of 'gonzo' journalism, with "Fear and Loathing in Las Vegas"; he has illustrated classics such as "Alice in Wonderland", "Treasure Island" and "Animal Farm, "and written and illustrated his own books, which include "Sigmund Freud", "I Leonardo" and "The Big I Am". Steadman is also a printmaker, and has travelled the world's vineyards, culminating in his books "The Grapes of Ralph", "Untrodden Grapes" and "Still Life with Bottle. "Steadman's recent books for Bloomsbury include his epic collection of bird illustrations, "Extinct Boids. "
""

Angus Calder, author of the widely read The People's War: Britain 1939-1945 is a freelance writer based in Edinburgh. An essayist and poet, his other works include The Myth of the Blitz, Colours of Grief and, with Luath Press, Scotlands of the Mind. Poet and activist Beth Junor has been writing poetry, essays and pamphlets since she was 19. During the Cold War she was jailed seven times for non-violent protests against the military. She is a health professional and her work in paediatric language and communication disorder is widely respected.