Icebergs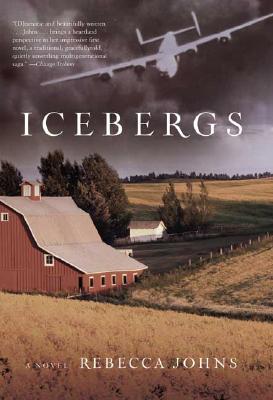 Icebergs
Bloomsbury USA, Paperback, 9781582345727, 304pp.
Publication Date: February 13, 2011
* Individual store prices may vary.
Not Currently Available for Direct Purchase
or
Shop Local
Enter your zip code below to purchase from an indie close to you.
Description
In World War II Canada, Walt Dunmore and Al Clark are the only members of their bomber crew to survive a plane wreck on Newfoundland's Labrador coast-but now they must fight injuries and cold in the sub-zero wilderness. On the home front, in a small Canadian farming community, Walt's young wife Dottie struggles with her own battles: loneliness, worry, and an attraction to an itinerant farm worker. Only one man comes home alive from Labrador, but the lives of their two families remain forever entwined. An ambitious and lyrical debut novel, "Icebergs "explores how tragedies narrowly averted can alter the course of lives as drastically as those met head-on..
About the Author
Rebecca Johns has worked for publications such as LIFE and Woman's Day, and her articles have appeared in Cosmopolitan, Mademoiselle, Self, and Seventeen. She is a recent graduate of the Iowa Writers' Workshop, and received the Michener-Copernicus Award for this, her first novel.
Praise For Icebergs…
"[D]ramatic and beautifully written....Johns...brings a heartland perspective to her impressive first novel, a traditional, gracefully told, quietly unsettling multigenerational saga."--Chicago Tribune "Inviting, occasionally moving...Johns arrives at effectively muted moments of revelation."--New York Times Book Review
"A deeply satisfying novel that shows how people--like icebergs--often reveal only 10 percent of themselves, while the rest remains hidden beneath the surface."--Booklist
"A quietly powerful and deeply pleasurable read....[T]here's much going on beneath the surface of Johns's muted, deceptively simple prose, as well as in her character's lives."--Nancy Pearl, BookLust
"Johns's moving debut is at first a gripping account of their quest for survival--intertwined with the stories of their young wives at home--but broadens to a multigenerational epic…With stark, lovely prose, Johnson weaves a delicate tapestry of linked narratives, confirming that the paths not taken can be as significant as the ones taken."--Publishers Weekly
"Johns is ambitious enough to tell a story that spans several generations, revitalizing the wartime genre. Her meticulous presentation of details will make readers feel they are actually witnessing the events…This work has the appeal of a best seller."--Library Journal