How to Survive a Robot Uprising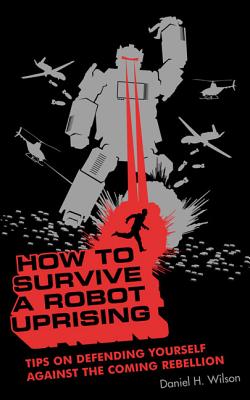 How to Survive a Robot Uprising
Tips on Defending Yourself Against the Coming Rebellion
Bloomsbury Publishing PLC, Paperback, 9781582345925, 176pp.
Publication Date: October 13, 2005
* Individual store prices may vary.
Buy at Local Store
Enter your zip code below to purchase from an indie close to you.
or
Buy Here
Description
An inspired and hilarious look at how humans can defeat the inevitable robot rebellion as revealed by a robotics expert.
How do you spot a robot mimicking a human? How do you recognize and then deactivate a rebel servant robot? How do you escape a murderous "smart" house, or evade a swarm of marauding robotic flies? In this dryly hilarious survival guide, roboticist Daniel H. Wilson teaches worried humans the keys to quashing a robot mutiny.
From treating laser wounds to fooling face and speech recognition, besting robot logic to engaging in hand-to-pincer combat, "How to Survive a Robot Uprising" covers every possible doomsday scenario facing the newest endangered species: humans. And with its thorough overview of current robot prototypes including giant walkers, insect, gecko, and snake robots "How to Survive a Robot Uprising "is also a witty yet legitimate introduction to contemporary robotics. Full of cool illustrations, and referencing some of the most famous robots in pop-culture, "How to Survive a Robot Uprising "is a one-of-a-kind book that is sure to be a hit with all ages.
About the Author
Daniel H. Wilson earned a Ph.D. from the Robotics Institute of Carnegie Mellon University in 2005 and Masters degrees in Artificial Intelligence and Robotics. Wilson is a contributing editor to Popular Mechanics magazine and author of How to Survive a Robot Uprising (Bloomsbury 2005), voted best book of 2006 by WIRED Magazine, as well as Where s My Jetpack? (Bloomsbury 2007) and How to Build a Robot Army (Bloomsbury 2008). His forthcoming books include Bro-Jitsu: The Martial Art of Sibling Rivalry and The Robonomicon. Three of his books (Robot Uprising, Robot Army, and Bro-Jitsu) were optioned by Paramount Pictures, and he penned the screenplay based on Bro-Jitsu. Wilson hosted The Works on the History Channel, which aired Fall 2008.