A Timbered Choir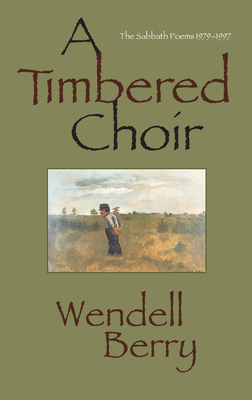 A Timbered Choir
Counterpoint LLC, Paperback, 9781582430065, 240pp.
Publication Date: March 19, 1999
* Individual store prices may vary.
Buy at Local Store
Enter your zip code below to purchase from an indie close to you.
or
Buy Here
Description
Berry's Sabbath poems embrace much that is elemental to human life--beauty, death, peace, and hope.In his preface to the collection, Berry writes about the growing audience for public poetry readings. While he sees poetry in the public eye as a good thing, Berry asks us to recognize the private life of the poem. These Sabbath poems were written "in silence, in solitude, and mainly out of doors," and tell us about "moments when heart and mind are open and aware."Many years of writing have won Wendell Berry the affection of a broad public. He is beloved for his quiet, steady explorations of nature, his emphasis on finding good work to do in the world, and his faith in the solace of family, memory, and community. His poetry is assured and unceasingly spiritual; its power lies in the strength of the truths revealed.
About the Author
A prolific nonfiction writer, novelist, and journalist, Gene Logsdon has published more than two dozen books, both practical and philosophical. Gene's nonfiction works include Holy Shit, Small-Scale Grain Raising, Living at Nature's Pace, The Contrary Farmer's Invitation to Gardening, Good Spirits, and The Contrary Farmer. His most recent novel is Pope Mary and the Church of Almighty Good Food. He writes a popular blog, The Contrary Farmer, as well as an award-winning column for the Carey Ohio Progressor Times, and is a regular contributor to Farming Magazine and Draft Horse Journal. He lives and farms in Upper Sandusky, Ohio. You can visit his blog at http: //thecontraryfarmer.wordpress.com/.