Jayber Crow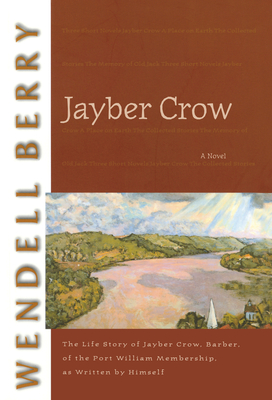 Jayber Crow
Counterpoint LLC, Paperback, 9781582431604, 363pp.
Publication Date: August 30, 2001
* Individual store prices may vary.
Buy Now
or
Shop Local
Enter your zip code below to purchase from an indie close to you.
Description
Jayber Crow, born in Goforth, Kentucky, orphaned at age ten, began his search as a "pre-ministerial student" at Pigeonville College. There, freedom met with new burdens and a young man needed more than a mirror to find himself. But the beginning of that finding was a short conversation with "Old Grit," his profound professor of New Testament Greek. "You have been given questions to which you cannot be "given" answers. You will have to live them outperhaps a little at a time."
"And how long is that going to take?"
"I don't know. As long as you live, perhaps."
"That could be a long time."
"I will tell you a further mystery," he said. "It may take longer."
Eventually, after the flood of 1937, Jayber becomes the barber of the small community of Port William, Kentucky. From behind that barber chair he lives out the questions that drove him from seminary and begins to accept the gifts of community that enclose his answers. The chair gives him a perfect perch from which to listen, to talk, and to see, as life spends itself all around. In this novel full of remarkable characters, he tells his story that becomes the story of his town and its transcendent membership.
About the Author
A prolific nonfiction writer, novelist, and journalist, Gene Logsdon has published more than two dozen books, both practical and philosophical. Gene's nonfiction works include Holy Shit, Small-Scale Grain Raising, Living at Nature's Pace, The Contrary Farmer's Invitation to Gardening, Good Spirits, and The Contrary Farmer. His most recent novel is Pope Mary and the Church of Almighty Good Food. He writes a popular blog, The Contrary Farmer, as well as an award-winning column for the Carey Ohio Progressor Times, and is a regular contributor to Farming Magazine and Draft Horse Journal. He lives and farms in Upper Sandusky, Ohio. You can visit his blog at http: //thecontraryfarmer.wordpress.com/.