The Poetry of William Carlos Williams of Rutherford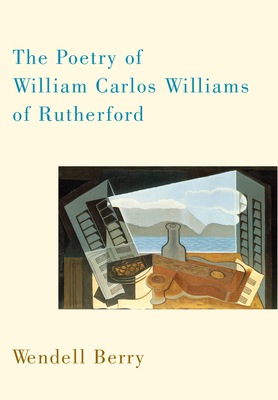 The Poetry of William Carlos Williams of Rutherford
Counterpoint LLC, Hardcover, 9781582437149, 189pp.
Publication Date: February 1, 2011
* Individual store prices may vary.
Buy at Local Store
Enter your zip code below to purchase from an indie close to you.
or
Not Currently Available for Direct Purchase
Description
Acclaimed essayist and poet Wendell Berry was born and has always lived in a provincial" part of the country without an established literary culture. In an effort to adapt his poetry to his place of Henry County, Kentucky, Berry discovered an enduringly useful example in the work of William Carlos Williams. In Williams' commitment to his place of Rutherford, New Jersey, Berry found an inspiration that inevitably influenced the direction of his own writing.

Both men would go on to establish themselves as respected American poets, and here Berry sets forth his understanding of that evolution for Williams, who in the course of his local membership and service, became a poet indispensable to us all.
About the Author
A prolific nonfiction writer, novelist, and journalist, Gene Logsdon has published more than two dozen books, both practical and philosophical. Gene's nonfiction works include Holy Shit, Small-Scale Grain Raising, Living at Nature's Pace, The Contrary Farmer's Invitation to Gardening, Good Spirits, and The Contrary Farmer. His most recent novel is Pope Mary and the Church of Almighty Good Food. He writes a popular blog, The Contrary Farmer, as well as an award-winning column for the Carey Ohio Progressor Times, and is a regular contributor to Farming Magazine and Draft Horse Journal. He lives and farms in Upper Sandusky, Ohio. You can visit his blog at http: //thecontraryfarmer.wordpress.com/.
Praise For The Poetry of William Carlos Williams of Rutherford…
Praise for The Poetry of William Carlos Williams

"Generously quoting many of Williams' best lines, tenderly confessing when he doesn't understand Williams (e.g., Williams' elusive variable foot"), and referring to his own life and work to clarify what he thinks about Williams, Berry produces a work of aesthetics more than evaluation, of love more than critique." Booklist

"Berry's superb study reminds us that Williams remains our contemporary not only for the lively cadences and fresh imagery that animate his poems, but for the ethical imperative of his example: to know ourselves as creatures of a particular place and, through that grounded knowledge, to develop the arts that will enable us to live in it over the long haul." The Sewanee Review


Praise for Wendell Berry

"Generously quoting many of Williams' best lines, tenderly confessing when he doesn't understand Williams (e.g., Williams' elusive variable foot"), and referring to his own life and work to clarify what he thinks about Williams, Berry produces a work of aesthetics more than evaluation, of love more than critique." Booklist

He can be said to have returned American poetry to a Wordsworthian clarity of purpose." The New York Times Book Review

Berry's nonfiction soars because its language is guided by thrift and propriety, a literary illustration of just the values that his words espouse." San Francisco Chronicle