The Adjustment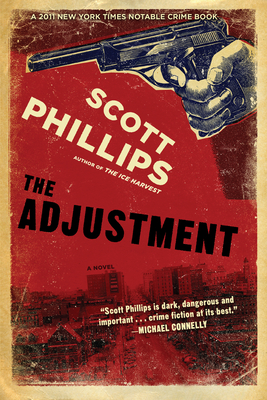 The Adjustment
Counterpoint LLC, Paperback, 9781582438238, 224pp.
Publication Date: May 22, 2012
* Individual store prices may vary.
Buy at Local Store
Enter your zip code below to purchase from an indie close to you.
or
Buy Here
Description
The war is over, but that doesn't mean things are getting better for PR man Wayne Ogden or any of the returning vets. The town of Wichita, Kansasbuilt around the industry of Collins Aircraft and its wealthy founder, Everett Collinsis not how they remember it. Against the background violence committed by the returning soldiers trying to make an adjustment back into civilian life, Wayne attempts to destroy his former mentor and take down Collins Aircraftthe once fabled company that provided planes to Amelia Earhart, Charles Lindbergh, and Wiley Post. All along the way he is haunted by poison pen letters, anonymously sent, that carry threats alluding to his black market work as a supply sergeant in the Quartermaster Corps. As the letters reveal more and more of Wayne's secretive wartime past, his plan to destroy Collins and his company takes an increasingly darker turn that leads to blackmail, extortion, and murder. Phillips expertly crafts an instant noir classic that presents the birth of a postwar American criminal.
About the Author
Scott Phillips is the lead analyst and portfolio manager of the Lauren Templeton Global Maximum Pessimism Fund.
Praise For The Adjustment…
"The author's unapologetic depiction of a thoroughly bad egg will appeal to hard-boiled fans who don't need redeeming features to become engaged with a character." Publisher's Weekly

"Wayne Ogden is a prince of a fellow, as long as you judge this bad-boy protagonist of Scott Phillips's caustic crime novel . . . according to his own perverse code of ethics." New York Times Book Review

What draws us to the book is Phillips' taut and vicious vision, so clean we cannot help but inhabit it, even when we find ourselves repelled." Los Angeles Times

"Phillips' novel is a brilliant work of noir, narrated in an Ogden deadpan that at times pokes the ghost of Raymond Chandler. Phillips' place of residence qualifies The Adjustment for this 'Best of St. Louis' honor, but regardless of where he chose to hang his hat, his book would rank among the best published this year." The Riverfront Times, Best Book by a Local Author

as good, if not better, than The Ice Harvest . . . Like Jim Thompson with Lou Ford, Scott Phillips successfully manipulates the reader via Wayne Ogden. He forces you to stop on the side of the road, to look at the crash, and then to get out of your car to inspect every tiny details of this twisted wreckage of a man. The Adjustment is hardboiled, hardcore, and hard to put down." crimefictionlover.com

"Playing fast and loose with the dark side of the Greatest Generation, Scott Phillips once again creates a tight, funny noir that's rich in character, and makes the profane sacred." from Indiebound's Next Great Reads selection

"This is Wayne's story, and what makes it memorable is his hulking presence, drifting through the world as hungry and blank-eyed as a shark . . . There's something compelling about that sort of rage, about its compression, its control . . . But what draws us to the book is Phillips' taut and vicious vision, so clean we cannot help but inhabit it, even when we find ourselves repelled." David L. Ulin, The Los Angeles Times

"Written in pitch-perfect noir form." Library Journal

Like all Phillips novels, you never know where The Adjustment is going and the storytelling is nothing less than completely compelling... [this is] the best novel that I've read all year."Spinetingler Magazine

"Sly and worthy . . . Crime fans, especially those who favor a vivid sense of place and time, will love it." Booklist