Wild Fibonacci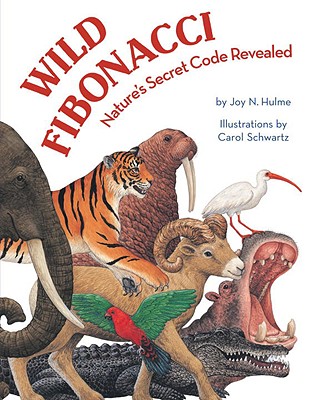 Wild Fibonacci
Nature's Secret Code Revealed
Tricycle Press, Hardcover, 9781582461540, 32pp.
Publication Date: September 1, 2005
* Individual store prices may vary.
Not Currently Available for Direct Purchase
or
Shop Local
Enter your zip code below to purchase from an indie close to you.
Description
1, 1, 2, 3, 5, 8, 13, 21, 34. . . Look carefully. Do you see the pattern? Each number above is the sum of the two numbers before it. Though most of us are unfamiliar with it, this numerical series, called the Fibonacci sequence, is part of a code that can be found everywhere in nature. Count the petals on a flower or the peas in a peapod. The numbers are all part of the Fibonacci sequence. In Wild Fibonacci, readers will discover this mysterious code in a special shape called an equiangular spiral. Why so special? It mysteriously appears in the natural world: a sundial shell curves to fit the spiral. So does a parrot's beak. . . a hawk's talon. . . a ram's horn. . . even our own human teeth! Joy Hulme provides a clear and accessible introduction to the Fibonacci sequence and its presence in the animal world.
About the Author
Joy N. Hulme is the author of "Through the Open Door and several children's picture books, including "Bubble Trouble. Climbing the Rainbow, a continuation of "Through the Open Door, is based on the true experiences of a girl who grew up on a homestead farm in New Mexico in the early 1900s. Late in her life, she and Joy Hulme became acquainted as members of the same church in California. As they visited together and the real-life Dora shared the memories of her childhood with her new friend, they discovered they had much in common. Joy Hulme and her husband, Mel, live in Monte Sereno, California.

Carol Schwartz is an award-winning illustrator of 37 books for children. She lives in Cincinnati, Ohio with her husband.