Confessions of a Former Bully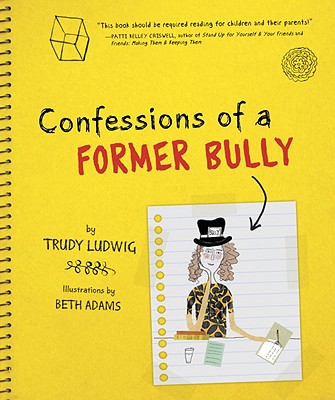 Confessions of a Former Bully
Tricycle Press, Hardcover, 9781582463094, 48pp.
Publication Date: August 24, 2010
* Individual store prices may vary.
Buy Now
or
Shop Local
Enter your zip code below to purchase from an indie close to you.
Description
After Katie gets caught teasing a schoolmate, she's told to meet with Mrs. Petrowski, the school counselor, so she can make right her wrong and learn to be a better friend. Bothered at first, it doesn't take long before Katie realizes that bullying has hurt not only the people around her, but her, too. Told from the unusual point of view of the bullier rather than the bullied, "Confessions of a Former Bully" provides kids with real life tools they can use to identify and stop relational aggression.
About the Author
Trudy Ludwig travels the country speaking on topics such as teasing, bullying, and mutual respect. Her books have been endorsed by such organizations as The Ophelia Project, Hands and Words Are Not For Hurting Project, and Full Esteem Ahead. Trudy lives with her family in Portland, Oregon.


Praise For Confessions of a Former Bully…
Review, Kirkus Reviews, July 1, 2010:
"This fictional cure will resonate with its intended audience."

Review, Book Faerie.com, August 9, 2010:
"This book is written for children ages 7-11, but the life skills are applicable to all. Help your child learn about bullying and how to protect themselves from it by sharing this book with them."

Review, Booklist, September 1, 2010:
"…many children looking for practical advice on bullying will find this journal more thought-provoking, practical, and readable than many nonfiction books on the subject."

Review, School Library Journal:
"…the language and casual writing style are age appropriate…The advice is sound and there are specific examples that will be helpful….Further reading for children and adults, as well as the websites listed at the end of the book, are useful resources."

Review, Publishers Weekly:
"Ludwig packs a lot of expertise and teachable moments into these pages."

Review, Children's Book Review:
"After five books, Ludwig has become much beloved by kids, parents and teachers. [Confessions of a Former Bully] is chock-full of helpful information, charts, 'Quick Facts,' reflections and revelations. This book will be a sought after resource in both the home and the school library."

Review, Midwest Book Review:
"An absolute 'must-have' for elementary, middle school, and public library collections."

Review, The Children's Book Review:
"Confessions of a Former Bully teaches us how to disarm the bully by taking the power and the fun out of bullying.  Best of all the reformed bully is not vilified but respected for her courage to change....a sought after resource in both the home and the school"

"This book should be required reading for children and their parents!" —Patti Kelley Criswell, author of American Girl's Stand Up for Yourself & Your Friends and Friends: Making Them & Keeping Them

"Confessions of a Former Bully is unmatched in providing effective tools for girls and boys in every social role, whether they are instigators, targets, or bystanders." —Melissa Norman, founder & executive director of GirlCHARGE, Inc.

"Confessions of a Former Bully brings us into the mind and heart of a girl who bullies and shows us that change is possible." —Stan Davis, author of Empowering Bystanders and Schools Where Everyone Belongs

"Confessions of a Former Bully is a valuable resource for both the home and the classroom." —Sandra McLeod Humphrey, retired clinical psychologist, character education expert & children's author