The Secret Language of Your Body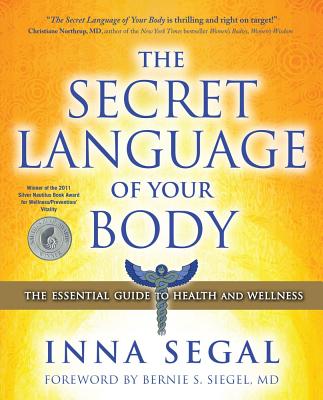 The Secret Language of Your Body
The Essential Guide to Health and Wellness
Beyond Words Publishing, Paperback, 9781582702605, 252pp.
Publication Date: August 31, 2010
* Individual store prices may vary.
Buy at Local Store
Enter your zip code below to purchase from an indie close to you.
or
Buy Here
Description
The Secret Language of Your Body unveils the secrets to understanding the messages of your body, revealing the underlying causes of symptoms and medical conditions, and offers processes for healing. Foreword by Bernie Siegel, M.D. This inspiring handbook delves deeply into the possible reasons for health issues in all areas of your body. Author Inna Segal offers a unique, step-by-step method to assist your body in returning to its natural state of health, including a free thirty-five minute audio download where Inna helps you tune into your body for a powerful healing experience. By encouraging you to connect with your innate healing intelligence and calling on your body's built-in ability to heal itself, Inna gently guides you on a journey of life-changing transformation and empowerment where you will: - heal the mental, emotional, and energetic causes of physical ailments
- use easy, quick, practical exercises to heal your organs
- learn the secret language of disease and powerful processes for healing
- understand and release limiting thoughts and emotions
- discover how to use color to heal your life
- uncover and apply the messages your body has to teach you.
Praise For The Secret Language of Your Body…
"The Secret Language of Your Body is thrilling and right on target! My fondest hope is that people all over the planet will take this message of healing into their hearts and bodies and become vibrantly well!"
—Christiane Northrup, MD, bestselling author of Women's Bodies, Women's Wisdom



"The Secret Language of Your Body truly is the essential guide to restoring your body to its healthiest state and assist you to heal your life. Inna Segal offers invaluable insights into the underlying causes of illness and disease and provides practical advice, which will undoubtedly empower many to self-heal. So read on and learn from the wisdom of this book, which can guide you to the life you were truly meant to live."
—Bernie S.Siegel, MD, bestselling author of Love, Medicine & Miracles



"The Secret Language of Your Body teaches you how to listen to the messages your body gives and leads you step-by-step to create great health through simple but effective healing methods and principles. Inna Segal explains and demonstrates how your thoughts, energy, and emotions affect your health, so your body's wisdom won't be a secret anymore but a powerful guide to transform every area of your life."
—Jack Canfield, co-author of the Chicken Soup for the Soul® series and author of The Success Principles™



"An easy-to-use practical guide for establishing a relationship with your own body and its healing potential. This book offers you user-friendly tools to participate in your own healing. The Secret Language of Your Body is an inspiring guide for learning to communicate effectively with our own bodies."
—Brandon Bays, bestselling author of The Journey



"You don't have to be ill to benefit from this remarkable book. Ms. Segal provides simple but powerful exercises that help you connect with your body and inner wisdom, to promote physical, mental, and emotional healing at the deepest level, allowing you to live a happy, healthy, and more abundant life."
—Hyla Cass, MD, author of Natural Highs, former assistant clinical professor of Psychiatry at UCLA School of Medicine



"I was a skeptic at first look. But I tried it and discovered this to be a magical book. Quite simply, it works and it can heal you."
—Roger Cole, MD, cancer and palliative care specialist, bestselling author of Mission of Love



"Livid, pissed off, torn up inside, heartache, bone weary, jaundiced, gut wrenching, blood boiling, pain in the neck, stab in the back, take my breath away, rash decision, sick to death; our language is alive with ancient wisdom about the origin of many illnesses. The Secret Language of Your Body allows you to recognize and set yourself free from the toxic effects of unconscious beliefs and emotions, and start on a path of self-healing."
—Robin Youngson, MD, founder of the Centre for Compassion in Healthcare