Breathing Room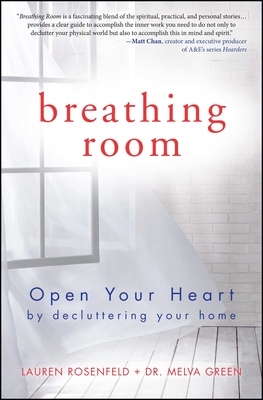 Breathing Room
Open Your Heart by Decluttering Your Home
Beyond Words Publishing, Paperback, 9781582704579, 261pp.
Publication Date: April 1, 2014
* Individual store prices may vary.
Buy Now
or
Shop Local
Enter your zip code below to purchase from an indie close to you.
Description
Cleaning out your cupboards isn t just about a tidier kitchen. Find peace, repair your past, and live a more fulfilled life with this uplifting guide to the spiritual practice of decluttering.
Bless your clutter. Yes, you heard right: Bless it. Bless everything in your life that is superfluous, broken, burdensome, and overwhelming because it is all here to teach you an important lesson, perhaps the most important lesson there is: what really matters.
Everyone's lives could use some serious decluttering. But decluttering isn t just about sorting junk into piles and tossing things in the trash. Decluttering can inform us of our burdens, help us to understand our attachments, and aid us in identifying what is truly valuable in our lives.
Written by a medical doctor and a spiritual intuitive, with case studies of people just like you, "Breathing Room" takes you on an enlightening room-by-room tour where each room in your home corresponds to a room in your heart, and where decluttering will not just make space but improve the spirit.
So, if it's weighing you down, if it's become an obstacle, if it's making it near impossible for you to find the things you really love it's time for you to let it go and find a little breathing room.
About the Author
James McMahon and Lauren Rosenfeld are just like you: They have loads of things to do every day! They have worked in the fields of business, science, coaching and education; they co-founded Wisdomology.com, an online community for sharing life lessons; and they are parents of four fiercely creative, clutter creating, fun-loving children.

Dr. Melva Green is a board-certified psychiatrist, TV personality, and spiritual healer. She is an expert doctor on the popular and critically acclaimed A&E show "Hoarders." Dr. Green travels nationally and internationally assisting spiritually awakening souls who have committed to detoxing and decluttering--mentally, emotionally, and spiritually--so that they might live their best lives and awaken into their full potential. She lives in northern California with her son.