All Things Censored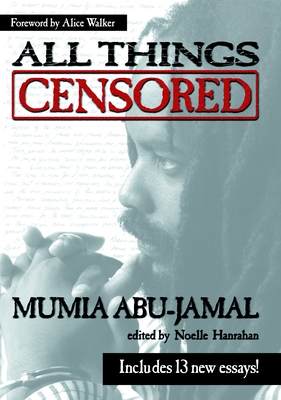 All Things Censored
Seven Stories Press, Paperback, 9781583220764, 335pp.
Publication Date: June 5, 2001
* Individual store prices may vary.
Buy at Local Store
Enter your zip code below to purchase from an indie close to you.
or
Not Currently Available for Direct Purchase
Description
More than 75 essays—many freshly composed by Mumia with the cartridge of a ball-point pen, the only implement he is allowed in his death-row cell—embody the calm and powerful words of humanity spoken by a man on Death Row. Abu-Jamal writes on many different topics, including the ironies that abound within the U.S. prison system and the consequences of those ironies, and his own case. Mumia's composure, humor, and connection to the living world around him represents an irrefutable victory over the "corrections" system that has for two decades sought to isolate and silence him.

The title, All Things Censored, refers to Mumia's hiring as an on-air columnist by National Public Radio's "All Things Considered," and subsequent banning from that venue under pressure from law and order groups.
About the Author
Mumia Abu-Jamal, an award-winning journalist, is America's best-known political prisoner. Sentenced with execution, Mumia has lived on Death Row since 1982. Ever since he wrote for the Black Panther Party's national newspaper as a youth, Mumia has reported on the racism and inequity in our society. He soon added radio to his portfolio, eventually recording a series of reports from death row for NPR's All Things Considered. However, NPR, caving in to political pressure, refused to air the programs. Mumia Abu-Jamal is still fighting for his own freedom from prison, and through his powerful voice, for the freedom of all people from inequity.

Hanrahan is an investigative journalist. Since 1992 she has produced the commentaries of Mumia Abu-Jamal. she is a graduate of Stanford University. Currently she is working on the Redwood Summer Justice Project's civil rights lawsuit resulting from FBI and Oakland Police misconduct surrounding the May 1990 car-bomb assassination attempt against Earth First! leader Judi Bari.

ALICE WALKER is an internationally celebrated writer, poet, and activist whose books include seven novels, four collections of short stories, four children s books, and volumes of essays and poetry. She won the Pulitzer Prize in Fiction in 1983 and the National Book Award.