Nuestra Arma Es Nuestra Palabra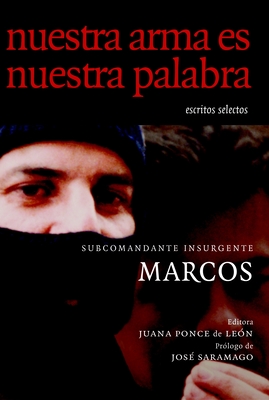 Nuestra Arma Es Nuestra Palabra
Escritos Selectos = Our Weapon is Our Word
Siete Cuentos Editorial, Paperback, 9781583222706, 480pp.
Publication Date: December 5, 2000
* Individual store prices may vary.
Not Currently Available for Direct Purchase
or
Shop Local
Enter your zip code below to purchase from an indie close to you.
Description
En este libro fundamental, Seven Stories Press presenta una poderosa colección de escritos literarios, filosóficos y políticos del enigmático vocero de los zapatistas, SubComandante Marcos. Con la Introducción del ganador del Premio Nobel, José Saramago, e ilustrado con bellas fotos en blanco y negro, Nuestra Arma es Nuestra Palabra cristaliza, la pasión de un rebelde, la poesía de un movimiento y el genio literario de los indígenas de México. Marcos captura por primera vez la atención mundial el primero de enero de 1994 cuando un grupo guerrillero indígena que se llama a sí mismo "Zapatista", en rebelión contra el gobierno de México, se apodera de poblaciones claves en Chiapas, el Estado más al sur del país. En los ocho años que han pasado desde esa rebelión, Marcos ha alterado el curso de la política mexicana y ha surgido como un símbolo internacional de la construcción de los movimientos de base, rebelión y democracia. Su prolífico torrente de escritos de poesía política, cuentos, mitos tradicionales que Marcos ha recogido desde el primero de enero de 1994, llena más de cuatro volúmenes. Nuestra Arma es Nuestra Palabra presenta lo mejor de sus escritos, muchos de los cuales no habían sido publicado antes en inglés.
Nuestra Arma es Nuestra Palabra está dividido en tres secciones. La primera junta sus ensayos políticos esenciales y muestra la evolución del pensamiento zapatista como un movimiento tanto dentro, como fuera de México. La segunda, presenta el pensamiento filosófico de Marcos, sus reflexiones personales e incluye una recolección humorística de sus primeros días de guerrillero, así como sus cartas a otros escritores. En la tercera aparecen muchas historias cortas, cuentos populares, y mitos indígenas que Marcos ha conocido, incluída la premiada "Historia de los Colores".
A través de este libro extraordinario oimos la voz no comprometida de las comunidades indígenas que viven en resistencia, expresando por medio de manifiestos y mitos el apremio universal de dignidad, democracia y libertad. Es la voz de un pueblo que rehusa ser olvidado, es la voz la transición de México, la voz de un pueblo luchando por la democracia, usando sus palabras como su única arma.
About the Author
Subcomandante Marcos (Date of birth unknown), is the de facto spokesman for the Zapatista Army of National Liberation (EZLN), a Mexican rebel movement. He is known as Delegado Cero (Delegate Zero) in matters concerning the Other Campaign. In January 1994, Marcos led an army of Indian farmers out of the mountains and took over the eastern part of the state of Chiapas, protesting the government's neglect of indigenous peoples. Marcos is an author, political poet, adroit humorist, and outspoken Marxist opponent of globalization, capitalism and neo-liberalism. Marcos is currently advocating having the Mexican constitution amended to recognize the rights of the country's indigenous inhabitants.[3] The internationally known guerrillero has been described as a "new" and "postmodern" Che Guevara



JOSE SARAMAGO (1922 2010) was the author of many novels, among them Blindness, All the Names, Baltasarand Blimunda, and The Year of the Death of Ricardo Reis. In 1998 he was awarded the Nobel Prize for Literature.