Algerian White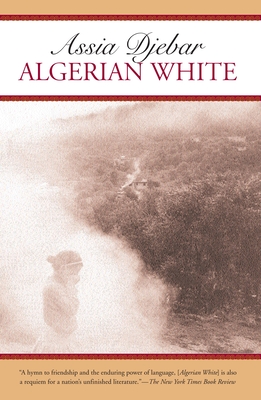 Algerian White
A Narrative
Seven Stories Press, Paperback, 9781583225165, 223pp.
Publication Date: February 4, 2003
* Individual store prices may vary.
Not Currently Available for Direct Purchase
or
Shop Local
Enter your zip code below to purchase from an indie close to you.
Description
In Algerian White, Assia Djebar weaves a tapestry of the epic and bloody ongoing struggle in her country between Islamic fundamentalism and the post-colonial civil society. Many Algerian writers and intellectuals have died tragically and violently since the 1956 struggle for independence. They include three beloved friends of Djebar: Mahfoud Boucebi, a psychiatrist; M'Hamed Boukhobza, a sociologist; and Abdelkader Alloula, a dramatist; as well as Albert Camus. In Algerian White, Djebar finds a way to meld the personal and the political by describing in intimate detail the final days and hours of these and other Algerian men and women, many of whom were murdered merely because they were teachers, or writers, or students. Yet, for Djebar, they cannot be silenced. They continue to tell stories, smile, and endure through her defiant pen. Both fiction and memoir, Algerian White describes with unerring accuracy the lives and deaths of those whose contributions were cut short, and then probes even deeper into the meaning of friendship through imagined conversations and ghostly visitations.
About the Author
Assia Djebar is considered as a major woman writer in Maghreb. By the time she was thirty, she had written four novels in French. In 1962, she abandoned fiction writing in French and devoted herself the teaching history at the University of Algiers. During the ensuing twelve years, she tried to tackle the problem of the transition from writing in French to writing in Arabic. She found a partial solution to this problem in the cinema with her film La Nouba des femmes du Mont Chenoua, which was awarded the Critic's Prize at the Venice Biennal 1979. In 1980 Assia published a volume of short stories dealing with the lives of contemporary urban Algerian women: Femmes d'Alger dans leur appartemen. Assia Djebar's work has been known to the English reader primarily through the translation of her first novel La Soif (1957) under the title of The Mischief. L'amour, la fantasia, translated as Fantasia: an Algerian Cavalcade was published in 1985.

David was a renowned translator of French literature.

Tahar Djaout (1954-93) was an Algerian novelist, poet, and journalist, and the author of twelve books, including "Les vigiles," winner of the Prix Mediterranee. An outspoken critic of the extremism stirring his nation, he was assassinated by an Islamic fundamentalist group. The manuscript of this novel was found among his papers after his death. Marjolijn de Jager teaches Dutch and French language and translation at New York University. Wole Soyinka is the winner of the Nobel Prize in Literature and the author of more than thirty books. Alek Baylee Toumi is an associate professor of French and Francophone studies at the University of Wisconsin-Stevens Point and the author of the play "Madah-Sartre," available in a Bison Books edition.