Stories That Changed America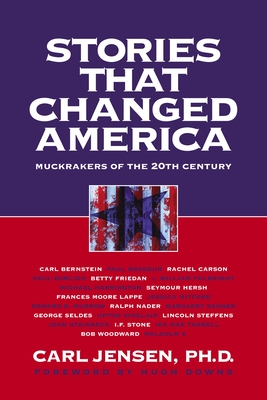 Stories That Changed America
Muckrakers of the 20th Century
Seven Stories Press, Paperback, 9781583225172, 272pp.
Publication Date: October 1, 2002
* Individual store prices may vary.
Buy at Local Store
Enter your zip code below to purchase from an indie close to you.
or
Not Currently Available for Direct Purchase
Description
Exuberantly written, highly informative, Jensen's Stories That Changed America examines the work of twenty-one investigative writers, and how their efforts forever changed our country. Here are the pioneering muckrakers, like Upton Sinclair, author of the fact-based novel The Jungle, that inspired Theodore Roosevelt to sign the Pure Food and Drug Act into law; "Queen of the Muckrakers" Ida Mae Tarbell, whose McClure magazine exposes led to the dissolution of Standard Oil's monopoly; and Lincoln Steffens, a reporter who unearthed corruption in both municipal and federal governments.
You'll also meet Margaret Sanger, the former nurse who coined the term "birth control"; George Seldes, the most censored journalist in American history; Nobel Prize-winning novelist John Steinbeck; environmentalist Rachel Carson; National Organization of Women founder Betty Friedan; African American activist Malcolm X; consumer advocate Ralph Nader; and Bob Woodward and Carl Bernstein, the Pulitzer Prize-winning reporters whose Watergate break-in coverage brought down President Richard Nixon.
The courageous writers Jensen includes in this deftly researched volume dedicated their lives to fight for social, civil, political and environmental rights with their mighty pens.
About the Author
Jensen-Professor emeritus of communications studies at Sonoma State University

Hugh Downs, longtime anchor of ABC Television's primetime news magazine 20/20, is one of the most familiar figures in the history of the medium. He left the program and regular broadcasting in September of 1999 to write and lecture and to pursue other activities: travel, flying, science studies, riding, sailing, composing . Downs has enjoyed a distinguished 66-year career in radio and television as a reporter, newscaster, interviewer, narrator and host. In 1985 he was certified by the Guinness Book of World Records as holding the record for the greatest number of hours on network commercial television. In the course of his career he has broadcast from every continent and both poles.