Masters of War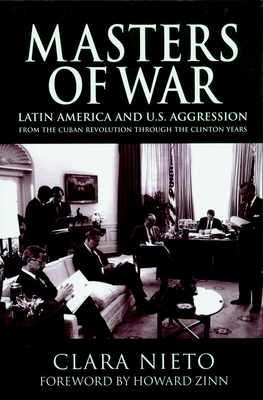 Masters of War
Latin America and the United States Aggression from the Cuban Revolution Through the Clinton Years
Seven Stories Press, Paperback, 9781583225455, 623pp.
Publication Date: September 2, 2003
* Individual store prices may vary.
Buy at Local Store
Enter your zip code below to purchase from an indie close to you.
or
Not Currently Available for Direct Purchase
Description
In Masters of War, Clara Nieto adeptly presents the parallel histories of the countries of Latin America, histories that are intertwined, each reflecting the United States' "coherent policy of intervention" set into motion by the Monroe Doctrine. As the value of this continued policy comes increasingly into question, Nieto argues for the need to evaluate the alarming precedent set in Latin America: the institution of client dictatorships, the roles played by the interests of U.S. corporations, the enormous tolls taken on civilian populations, and the irreversible disruption of regional stability.
Drawing from an impressive array of documents and sources as well as from her unique first-hand insights as a participant in crucial meetings and negotiations in the region from the mid-1960s through the mid-1980s, Nieto chronicles the Cuban Revolution, the CIA-sponsored coup against popularly elected President Allende in Chile, the U.S. invasions of Panama and Grenada, U.S. support for the cultivation and training of paramilitary death squads in Nicaragua, El Salvador, and Colombia, as well as similarly severe but less well-known situations in other countries such as Uruguay, Venezuela, Argentina, Peru, Bolivia, Honduras, and Guatemala.
Masters of War offers, from an informed perspective, perhaps for the first time, a distanced, objective analysis of recent Latin American history. Clara Nieto's depth of knowledge and understanding is an invaluable resource at a time when the media is seen as unapologetically aligned with the interests of major corporations and policymakers, and the American public has reached a new height of apprehension regarding the intentions behind and consequences of its government's policies.
About the Author
Clara Nieto is a Colombian journalist and diplomat who served for eleven years as a delegate to the United Nations, and later as Colombia's representative to UNESCO in Paris, charge d'affaires in Yugoslavia, Ambassador to Cuba, as well as UNESCO's regional director in Havana. She is the author of Masters of War, first published in Colombia by Uniandes-Cerec (1999), and later in the United States by Seven Stories Press (2003), in Italy by Nuovi Mundo Media (2003), and by Random House-Mondadori (2003).



Howard Zinn (1922 2010) was a historian, playwright, and social activist. In addition to A People s History of the United States, which has sold more than two million copies, he is the author of many books, including the autobiography You Can t Be Neutral on a Moving Train, The People Speak, and Passionate Declarations.