Public Power in the Age of Empire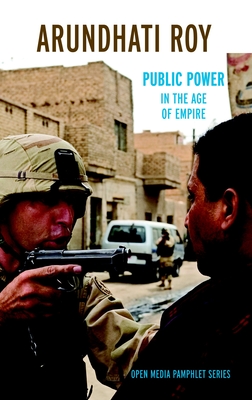 Public Power in the Age of Empire
Seven Stories Press, Paperback, 9781583226827, 59pp.
Publication Date: November 2004
* Individual store prices may vary.
Buy Now
or
Shop Local
Enter your zip code below to purchase from an indie close to you.
Description
In her major address to the 99th annual meeting of the American Sociological Association on August 16, 2004, "Public Power in the Age of Empire," broadcast nationally on C-Span Book TV and on Democracy Now! and Alternative Radio, writer Arundhati Roy brilliantly examines the limits to democracy in the world today. Bringing the same care to her prose that she brought to her Booker Prize-winning novel The God of Small Things, Roy discusses the need for social movements to contest the occupation of Iraq and the reduction of "democracy" to elections with no meaningful alternatives allowed. She explores the dangers of the "NGO-ization of resistance," shows how governments that block nonviolent dissent in fact encourage terrorism, and examines the role of the corporate media in marginalizing oppositional voices.
About the Author
Arundhati Roy is the author of the novel The God of Small Things, for which she received the 1997 Booker Prize. She has also written several non-fiction books, including Field Notes on Democracy: Listening to Grasshoppers and Walking with the Comrades. Roy is the recipient of the 2002 Lannan Foundation Cultural Freedom Prize.