Impeach the President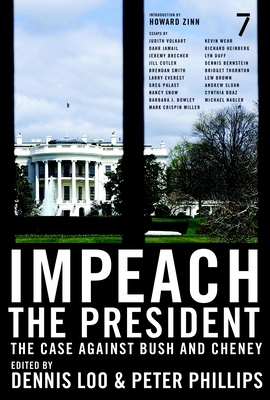 Impeach the President
The Case Against Bush and Cheney
Seven Stories Press, Paperback, 9781583227435, 326pp.
Publication Date: October 3, 2006
* Individual store prices may vary.
Not Currently Available for Direct Purchase
or
Shop Local
Enter your zip code below to purchase from an indie close to you.
Description
This brilliantly argued and wonderfully written collection by twenty-two of the best political analysts in the US analyzes the extraordinary and unprecedented threat the White House and its allies present to civil liberties, civil rights, the Constitution, international law, and the future of the planet.
Impeach the President unearths the stories behind election fraud in 2000 and 2004, the overt lies used to justify pre-emptive war on Iraq, the extensive, ongoing commission of war crimes and torture, the tragic failures in the lead-up to and aftermath of Hurricane Katrina, and lesser-known but equally alarming offences of propaganda and disinformation, illegal spying, environmental destruction, and the violation of the separation of church and state. Loo and Phillips chillingly reveal the full threat behind the radical right-wing force that has taken over the world's most powerful office.
About the Author
Dennis Loo, Ph.D. is an Associate Professor of Sociology at Cal Poly Pomona. He graduated with honors from Harvard in Government and received his Ph.D. from the University of California at Santa Cruz in Sociology. He has been a journalist, including as a Photo Editor at the Harvard Crimson and an Associate Editor at the Hawaii Observer. His

Reverend Dr Peter Phillips is New Testament Lecturer at Cliff College, Derbyshire and Honorary Research Fellow at Manchester University.

Howard Zinn (1922 2010) was a historian, playwright, and social activist. In addition to A People s History of the United States, which has sold more than two million copies, he is the author of many books, including the autobiography You Can t Be Neutral on a Moving Train, The People Speak, and Passionate Declarations.