As the World Burns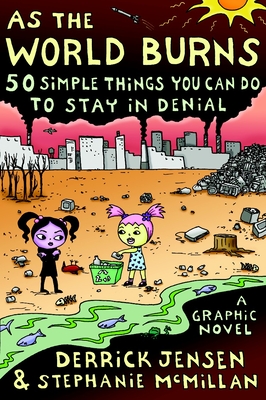 As the World Burns
50 Simple Things You Can Do to Stay in Denial
Seven Stories Press, Paperback, 9781583227770, 220pp.
Publication Date: November 2007
* Individual store prices may vary.
Shop Local
Enter your zip code below to find indies closest to you.
Description
Two of America's most talented activists team up to deliver a bold and hilarious satire of modern environmental policy in this fully illustrated graphic novel. The U.S. government gives robot machines from space permission to eat the earth in exchange for bricks of gold. A one-eyed bunny rescues his friends from a corporate animal-testing laboratory. And two little girls figure out the secret to saving the world from both of its enemies (and it isn't by using energy-efficient light bulbs or biodiesel fuel). As the World Burns will inspire you to do whatever it takes to stop ecocide before it's too late.
About the Author
Derrick Jensen is the prize-winning author of A Language Older than Words, The Culture of Make Believe, Listening to the Land, Strangely Like War, Welcome to the Machine, and Walking on Water. He was one of two finalists for the 2003 J. Anthony Lukas Book Prize, which cited The Culture of Make Believe as "a passionate and provocative meditation on the nexus of racism, genocide, environmental destruction and corporate malfeasance, where civilization meets its discontents." He writes for The New York Times Magazine, Audubon, and The Sun Magazine among many others. He is an environmental activist and lives on the coast of northern California.