Everybody Talks about the Weather... We Don't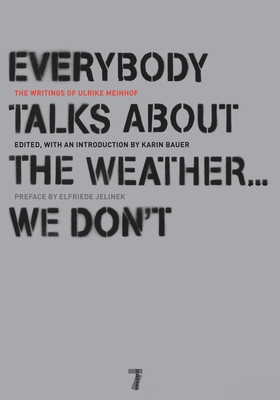 Everybody Talks about the Weather... We Don't
Seven Stories Press, Paperback, 9781583228319, 268pp.
Publication Date: June 2008
* Individual store prices may vary.
Shop Local
Enter your zip code below to find indies closest to you.
Description
No other figure embodies revolutionary politics and radical chic quite like Ulrike Meinhof, who formed, with Andreas Baader and Gudrun Ensslin, the Red Army Faction (RAF), also known as the Baader–Meinhof Gang, notorious for its bombings and kidnappings of the wealthy in the 1970s. But in the years leading up to her leap into the fray, Meinhof was known throughout Europe as a respected journalist, who informed and entertained her loyal readers with monthly magazine columns.
What impels someone to abandon middle-class privilege for the sake of revolution? In the 1960s, Meinhof began to see the world in increasingly stark terms: the United States was emerging as an unstoppable superpower, massacring a tiny country overseas despite increasingly popular dissent at home; and Germany appeared to be run by former Nazis. Never before translated into English, Meinhof's writings show a woman increasingly engaged in the major political events and social currents of her time. In her introduction, Karin Bauer tells Meinhof's mesmerizing life story and her political coming-of-age; Nobel Prize–winning author Elfriede Jelinek provides a thoughtful reflection on Meinhof's tragic failure to be heard; and Meinhof 's daughter—a relentless critic of her mother and of the Left—contributes an afterword that shows how Meinhof's ghost still haunts us today.
About the Author
ULRIKE HANNA MEINHOF is Professor of German and Cultural Studies at the University of Southampton, UK and a specialist in discourse analysis. She is co-ordinator of two EU Fifth Framework research projects, one on 'European border identities' (www.borderidentities.com) and another on 'Changing City Spaces' (www.citynexus.com) which deals with issues of cultural diversity and migration in seven capital cities in Europe. She is the author or editor of many books.
DARIUSZ GALASINSKI is Professor of Discourse and Cultural Studies in the University of Wolverhampton, UK and Visiting Professor at Warsaw School of Social Psychology, Poland. His other books include "Cultural Studies and Discourse Analysis" (with Chris Barker), "The Language of Deception," and "Men and the Language of Emotions,"

Bauer is Assistant Professor of German Studies at McGill University.

Elfriede Jelinek was born in Vienna in the aftermath of World War II and became a leading, if controversial, member of Austria s first generation of post-war artists.