Censored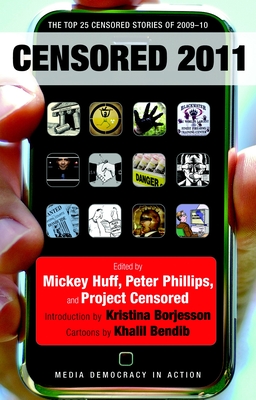 Censored
The Top 25 Censored Stories of 2009-10
Seven Stories Press, Paperback, 9781583229200, 458pp.
Publication Date: October 2010
* Individual store prices may vary.
Shop Local
Enter your zip code below to find indies closest to you.
Description
The yearly volumes of Censored, in continuous publication since 1976 and since 1995 available through Seven Stories Press, is dedicated to the stories that ought to be top features on the nightly news, but that are missing because of media bias and self-censorship. The top stories are listed democratically in order of importance according to students, faculty, and a national panel of judges. Each of the top stories is presented at length, alongside updates from the investigative reporters who broke the stories.
About the Author


Reverend Dr Peter Phillips is New Testament Lecturer at Cliff College, Derbyshire and Honorary Research Fellow at Manchester University.

Khalil Bendib produces cartoons distributed by the progressive Minuteman Media News Service to 1,700 small and mid-size newspapers.