The Vegucation of Robin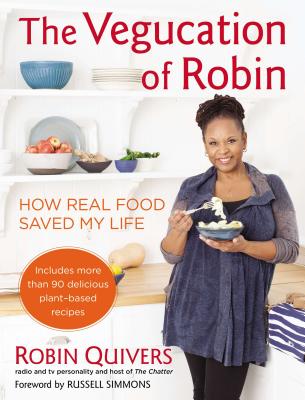 The Vegucation of Robin
How Real Food Saved My Life
Avery Publishing Group, Hardcover, 9781583334737, 261pp.
Publication Date: October 8, 2013
* Individual store prices may vary.
Shop Local
Enter your zip code below to find indies closest to you.
Description
Howard Stern's celebrated sidekick, Robin Quivers presents her vegan cookbook and manifesto with more than 90 healthy recipes for the home cook.
Known for her levelheaded, deadpan comebacks to Howard Stern's often outrageous banter, Robin Quivers is a force of nature. Yet few people know about her struggles with food especially the high-fat, high-sugar, high-cholesterol, highly addictive foods that doomed many of her relatives to obesity, diabetes, and heart disease. Sick and tired of being sick and tired, she knew it was time to stop her slow slide into bad health. Quivers took a stand in her personal nutrition battle and emerged victorious thanks to a plant-based diet.
On her sometimes rocky, though endearingly hysterical, path to newfound health, Quivers discovered the power of the produce aisle in changing her body and her mindset.By filling up on soul-quenching, cell-loving vegetables instead of damaging animal products and processed foods, Quivers left behind the injuries, aches, and pains that had plagued her for twenty years. Charting her inspiring road to wellness, "The Vegucation of Robin "describes her transformation inside and out, and, including ninety of her favorite vegan recipes, she encourages readers to join her in putting their health first.
With her signature humor and wit, Quivers builds an undeniable case that the key to living the life you ve always wanted lies not with your doctor but in your refrigerator. Putting a new face on the pro-veggie movement, Quivers will dazzle readers who want to look good, feel good, and have fun doing it.
About the Author




RUSSELL SIMMONS is the founder or cofounder of numerous successful companies and philanthropic organizations, including Def Jam Records, Phat Farm clothing, the dRush advertising agency, and Rush Philanthropic.
NELSON GEORGE is a groundbreaking journalist, cultural critic, novelist, and filmmaker. Among his nine books are Show and Tell, the award-winning Death of Rhythm & Blues, and Hip Hop America, . He can be reached at www.nelsongeorge.com.
Praise For The Vegucation of Robin…
"I was surprised by how many times I nodded my head reading Quivers' revelations... Refreshing." 
—Patrik Bass, Essence