Lose It Fast, Lose It Forever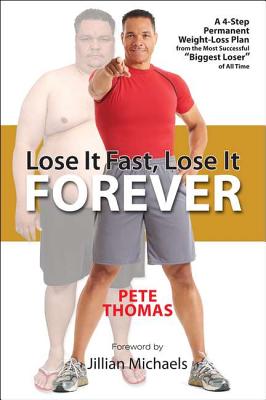 Lose It Fast, Lose It Forever
A 4-Step Permanent Weight Loss Plan from the Most Successful "Biggest Loser" of All Time
Avery Publishing Group, Hardcover, 9781583334997, 316pp.
Publication Date: September 13, 2012
* Individual store prices may vary.
Buy at Local Store
Enter your zip code below to purchase from an indie close to you.
or
Not Currently Available for Direct Purchase
Description
Foreword by Jillian Michaels
One of the most successful contestants on NBC's "The Biggest Loser" shares his time-tested fitness program, which has helped hundreds of his students lose weight . . . and keep it off.
Pete Thomas weighed more than 400 pounds when he landed on the NBC hit reality show "The Biggest Loser." Nine months later, he won the $100,000 prize after losing a whopping 185 pounds. Determined to help others, he now teaches a weight-loss program that has led to lasting results in hundreds of students from all walks of life. In "Lose It Fast, Lose It Forever," he makes his phenomenal four-step process available to everyone.
Raised in and out of foster care because of his mother's mental illness, Thomas knew the pain of physical and emotional hunger throughout his childhood. This has given him special insight as a weight-loss coach, and his turnaround is a remarkable testament to his program. These fundamentals provide lasting results: start with a commitment to lose just one pound at a time; create transformational life changes in your mind, mouth, and muscles; get rid of even those last, few, pesky extra pounds; and learn how to maintain a lifetime of fitness and health. Easy-to-implement action steps will keep readers motivated.
With recent achievements that include completing two triathlons and delivering the keynote address at the National Congress on Obesity, Thomas's inspiring story will help all readers discover the winner within.
About the Author


Jillian Michaels is best known as one of the trainers from the NBC hit series The Biggest Loser. Jillian has also written Making the Cut: The 30-Day Diet and Fitness Plan for the Strongest, Sexiest You. She has a line of workout DVDs, a successful online program at www.jillianmichaels.com, and is AOL's fitness coach for 2007. Jillian lives in Los Angeles with her beloved and faithful Chihuahua, Baxter.
Praise For Lose It Fast, Lose It Forever…
"Pete's program is going to be a ladder for many people who need to move up to a new level in their lives. Let Pete's story inspire you to achieve your own goals and dreams. He's done it, and so can you. You are worth it, so put his actions into practice and see your life change in every imaginable way." 
— Jillian Michaels, former "Biggest Loser" trainer and bestselling author of Master Your Metabolism and Unlimited (from the foreword)

"Pete started "The Biggest Loser" diabetic and he ended the show in complete remission while also eliminating a slew of other obesity-related diseases. Now, seven years later, Pete exemplifies how rapid weight loss can be sustained permanently. Lose It Fast, Lose It Forever is a valuable resource for anyone desirous of losing weight in a natural, safe and rapid manner—that can last a lifetime."
—Robert Huizenga, M.D., Medical Expert on NBC's "The Biggest Loser"

"Pete Thomas was one of the best transformations I've witnessed in my career and I loved reading Lose It Fast, Lose It Forever. It's not surprising to me that Pete would be successful after losing the weight, and Lose It Fast, Lose It Forever gives you a step-by-step process of how you can have the same success. Pete holds himself accountable daily (he even sends me a current picture on the anniversary of his final weigh-in every year!), and his book will hold you accountable in changing your life, not just to fit into a pair of jeans, but until the end of time."
—JD Roth, founder and CEO of 3 Ball Productions and creator of "The Biggest Loser"

"A lot of weight loss programs only address the way you eat or the way you exercise. Lose It Fast, Lose It Forever addresses both – plus the way you think – in a way that is understandable, thorough, and adaptable to any situation. His straight-forward and easily-understood approach leads to positive changes in your lifestyle, habits, and mindset. And that's the key to long-term, forever success."
—Chris Carmichael, US Olympic Committee Coach of the Year and founder of Carmichael Training Systems