Your Body Beautiful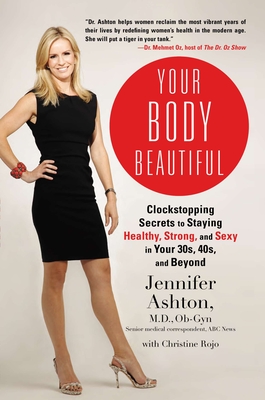 Your Body Beautiful
Clockstopping Secrets to Staying Healthy, Strong, and Sexy in Your 30s, 40s, and Beyond
Avery Publishing Group, Paperback, 9781583335109, 296pp.
Publication Date: December 31, 2012
* Individual store prices may vary.
Buy Now
or
Shop Local
Enter your zip code below to purchase from an indie close to you.
Description
The popular medical correspondent challenges women to reinvent their health and wellness routines, and to make midlife their most vibrant years.
The world is realizing that a woman's thirties and forties can be the most beautiful, energetic, and passionate time of her life.
Dr. Jennifer Ashton is America's fastest-rising women's health expert and medical television personality. Here in her health book for women, she outlines a powerful approach to health care that can help unleash new energy, strength, and sexiness. Integrating the latest scientific research, her five-part plan includes: A simple eating regimen tailored for your changing metabolism.A fitness program to help you work out harder in less time.Stress-reduction techniques and simple strategies for relaxation.An effective, step-by-step sleep plan.Prevention advice for reducing your risk of heart disease, cancer, and other potentially fatal ailments.Authoritative yet written in a friendly, girlfriend-to-girlfriend voice, "Your Body Beautiful" and its transformative strategies will help you look and feel more vibrant than ever.
About the Author
Jennifer Ashton is Associate Professor of English at the University of Illinois, Chicago, where she teaches literary theory and the history of poetry. She is author of From Modernism to Postmodernism: American Poetry and Theory in the Twentieth Century and has published articles in Modernism/Modernity, Modern Philology, American Literary History and the Western Humanities Review.


Praise For Your Body Beautiful…
"Dr. Ashton helps women reclaim the most vibrant years of their lives by redefining women's health in the modern age."
—Dr. Mehmet Oz, host of The Dr. Oz Show

"Dr. Jennifer Ashton has provided a one-stop shop for all the tools we need to live the vibrant, healthy and sexy life we all want and deserve."
—Dr. Laura Berman, sex and relationship therapist, host of In the Bedroom
"If you want to look and feel your best after 40 (and who doesn't?), Your Body Beautiful is for you. Dr. Ashton offers groundbreaking tools that help you actually control the way you age. Follow these techniques, and this can be the healthiest, sexiest, most energized and beautiful stage of your entire life. This is the book all your girlfriends will be raving about—and for good reason." —Kathy Smith, author of Kathy Smith's Lift Weights to Lose Weight

"Dr. Ashton has done a terrific job of creating a 5-week program that any woman or mom can follow. The insight into our lives and the tools she provides will make an immediate and long-lasting change in anyone's life! I highly recommend it."
—Dara Torres, 12-time Olympic medalist, motivational speaker, and mom

"Combination pep talk and warning, Ashton's message that women can and should take control of their own future health in these critical decades is backed up by current research and up-to-the-minute disease-prevention info."
—Publishers Weekly

"The author's positive attitude, generally practical health recommendations and sassy style combine to lend her professional advice wide appeal."
—Kirkus Reviews