The Best Care Possible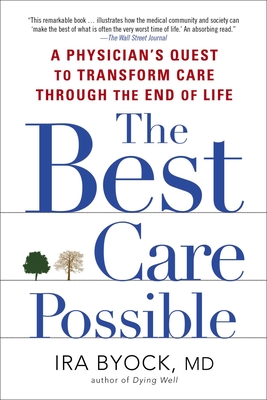 The Best Care Possible
A Physician's Quest to Transform Care Through the End of Life
Avery Publishing Group, Paperback, 9781583335123, 320pp.
Publication Date: March 5, 2013
* Individual store prices may vary.
Buy at Local Store
Enter your zip code below to purchase from an indie close to you.
or
Buy Here
Description
A doctor on the front lines of hospital care illuminates one of the most important and controversial social issues of our time.
It is harder to die in this country than ever before. Though the vast majority of Americans would prefer to die at home--which hospice care provides--many of us spend our last days fearful and in pain in a healthcare system ruled by high-tech procedures and a philosophy to "fight disease and illness at all cost."
Dr. Ira Byock, one of the foremost palliative-care physicians in the country, argues that how we die represents a national crisis today. To ensure the best possible elder care, Dr. Byock explains we must not only remake our healthcare system but also move beyond our cultural aversion to thinking about death. "The Best Care Possible" is a compelling meditation on medicine and ethics told through page-turning life-or-death medical drama. It has the power to lead a new national conversation.
About the Author
Ira Byock, MD, is a leading palliative care physician, author, and public advocate for improving care through the end of life. His research and writing have helped to define quality of life and quality of care for people living with advanced medical conditions. He has been involved in hospice and palliative care since 1978 and is a founding member and past president of the American Academy of Hospice and Palliative Medicine. From 1996 through 2006, he served as Director for Promoting Excellence in End-of-Life Care, a national grant program of the Robert Wood Johnson Foundation.

Dr. Byock is Chief Medical Officer of the "Institute for Human Caring" of Providence Health and Services system. From 2003 through July 2013 he directed the palliative care program at Dartmouth-Hitchcock Medical Center in Lebanon, New Hampshire. Dr. Byock is a Professor of Medicine and Community & Family Medicine at the Geisel School of Medicine at Dartmouth.

More information is available at IraByock.org.
Praise For The Best Care Possible…
"There is no palliative care physician for whom I have more respect and admiration than Ira Byock. In this strikingly important book, Byock presents an agenda for end-of-life care that should serve as an ideal template on which to build our best hopes for the final days of those we love and ourselves—and a corrective for our society." —Sherwin B. Nuland, MD, Yale Interdisciplinary Center for Bioethics and author of How We Die

"With elegance, compassion, and energy, Ira Byock shows us how to get the best end of life care. He is a great storyteller and a brilliant analyst of health care in America. This is the book to read or give, if you are facing this hard situation. Nobody gets out of this life alive, but Byock shows us how to do it elegantly and well." —Jane Isay, author of Walking on Eggshells

"This is an extraordinary and wise book on how dying people can be cared for. Written by a master clinician, a man of great compassion, Ira Byock has a vision of health care that is brilliant and kind." —Roshi Joan Halifax, Abbot, Upaya Zen Center, Sante Fe, author of Being with Dying

"In a world in which politics are polarized and ethical discussions often descend into a food fight, Ira Byock is that rare doctor: a humane guide leading us with honesty and compassion through complex stories about living and dying well. He's a real-life rebuke to those who think palliative doctors are "death panels" and a mentor to every medical student inevitably faced with mortality. This is must reading for everyone trying to make humane decisions in a high tech world." —Ellen Goodman, longtime syndicated columnist for The Boston Globe

"At a time when a long life can become a curse as readily as a blessing, this lucid and compassionate book points the way to more humane treatment of a life's last days." —Rabbi Harold Kushner, author of When Bad Things Happen to Good People

"The baby boom generation has transformed every stage of live we've touched. We're now transforming the dying process. And Dr. Byock is leading the way… brilliantly!" —Christiane Northrup, MD, ob/gyn and author of the New York Times bestselling Women's Bodies, Women's Wisdom and The Wisdom of Menopause

"A magnificent, moving, and deeply important work. Ira Byock is a trailblazer whose life's work has forever changed the way we view dying in this country. But there's much more to be done. The Best Care Possible is Byock's urgent and passionate call to action for the nation. This book is a must-read for anyone who thinks there's even a possibility that they someday might die." —Dave Isay, founder of StoryCorps, author-editor of Listening Is an Act of Love

"In a world of sound bites, end-of-life concerns are framed politically with emotionally charged rhetoric. Above the clamor, Dr. Byock writes a compelling case for consistent, compassionate, and enduring palliative care for all people as they reach the winter of their lives. Through vignettes he outlines the challenges for the patient, the caregivers, and the medical community, and ably advocates a revolution of care for the end of life. This is a revolution sorely needed and worth fighting for." —Pastor Robert Fleischmann, National Director, Christian Life Resources

"Dr. Byock, one of the country's leading experts in palliative care, shares his wisdom and insights on how to get the best care possible when we are confronted with a potentially life-limiting illness. When my own mother was seriously ill, Ira's words helped our family make the right choices and make sure she got the care she wanted – and no more – during her last months. His words can help you." —Elliott S. Fisher, MD, MPH, Director of Population Health and Policy, The Dartmouth Institute

"In The Best Care Possible, Ira Byock tells us why we need to move beyond medicine's fixation on conquering death to a vision of end-of-life care focused on the quality of the patient's experience. This is a beautifully written, highly personal account that makes real the struggle of patients and families to escape the "high-tech", more is better imperative that dominates the American way of death. It provides compelling examples of how the physician, committed to reform, can help patients achieve the care they want and need. But Byock goes further: he makes the case that professional reform is only part of the solution; overcoming the medicalization of death will require the mobilization of the wider community in the support of the dying (and those with chronic illness)."—Jack Wennberg, MD author of Tracking Medicine: a Researcher's Quest to Understand Health Care

"This is a profoundly truthful book. Ira Byock uses powerful stories about real people to explain the complications, nuances and often absurdity of advanced illness in 21st century America. He shows how courage, shared decisions, wise doctors and nurses and palliative care can make the difference. Above all, he calls for a cultural transformation, so we can deal with the end of life as individuals, families and society. Who should read it? All of us who are mortal." —Bill Novelli, Professor, Georgetown University and co-chair, the Coalition to Transform Advanced Care (and former CEO, AARP)

"Dr. Byock lets the stories of patients, families, and medical colleagues open windows into the heart of the issues. He leads the reader captivatingly from story to story to see and feel what the best care through the end of life can be and deftly invites our nation to envision the best care for our culturally diverse society and cultures. Dr. Byock captures the fundamental human impulse to care lovingly for one another at the most sacred and privileged moments of our lives…now and through the end of life."—David Lichter, D.Min., Executive Director, National Association of Catholic Chaplains

"Dr. Byock's book rejuvenates me. In allowing us the special privilege of entering the sacred space of their final journey, people teach us precious lessons about ourselves. Dr. Byock has a gift of sharing the lessons he's learned in a most readable narrative marked by compassion, love of life, and lucidity." —Rabbi Bunny Freedman, Founding Director of Jewish Hospice & Chaplaincy Network