The Monuments of Mars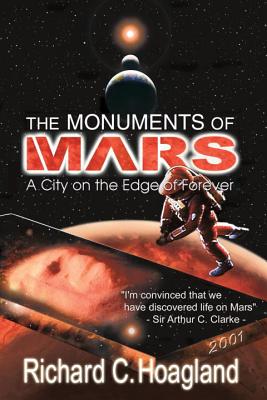 The Monuments of Mars
A City on the Edge of Forever
Frog in Well, Paperback, 9781583940549, 534pp.
Publication Date: January 2002
* Individual store prices may vary.
Shop Local
Enter your zip code below to find indies closest to you.
Description
For many years Richard Hoagland alone hypothesized that sentient beings spent time on Mars millions of years ago assembling behemoth structures whose ruins are still seen today. Here Hoagland redefines the solar system as a different place than NASA has presented. The book includes a new preface covering the Mars Global Surveyor photos and NASA's reactions.
About the Author
Hoagland served as a Curator of Astronomy & Space Science at the Springfield Museum of Science, located at The Quadrangle in Springfield, Massachusetts, and as a science adviser to Walter Cronkite and CBS News during the Apollo program.

Since the issuing of "Solar Journal: Oecological Sections" by Black Sparrow Press in 1970, Richard Grossinger has published some twenty-five books, most of them with his own press, North Atlantic Books/Frog, Ltd., but also titles with Harper, Doubleday, Sierra Club Books, J.P. Tarcher, among others. These have ranged from extremely long explorations of science, culture, and spirituality ("The Night Sky," "Planet Medicine," "Embryogenesis") to memoirs and nonfiction novels ("New Moon," "Out of Babylon") to experimental prose ("Book of the Earth and Sky," "Spaces Wild and Tame") and science fiction ("Mars: A Science Fiction Vision"). Grossinger received a PhD in anthropology from the University of Michigan in 1975 and lives with his wife Lindy Hough in Berkeley, California.
Praise For The Monuments of Mars…
"I'm fairly convinced that we have discovered life on Mars. There are some incredible photographs [from the Jet Propulsion Laboratory], which to me are pretty convincing proof of the existence of large forms of life on Mars! Have a look at them. I don't see any other interpretation."
—Sir Arthur C. Clarke

"I've seen the studies and I've seen the photographs—and there do appear to be formations of a 'face' and 'pyramids' [on Mars] that do not appear to be of natural or normal existence. It looks like they had to be fashioned by some intelligent beings. For this reason, I have asked NASA to provide assurances that the Mars Observer mission include this [set of targets] as one of its imaging objectives."
—Robert A. Roe, former Chairman, Congressional House Committee on Science, Space, and Technology

"Richard Hoagland has really been very successful [in The Monuments of Mars] because, as you know, not only do we have the Mars Observer coming up, but he has managed to convince the President [George Walker Bush] to state that a return to Mars is one of our major goals."
—Dr. John Klineberg, former Director, NASA-Lewis Research Center

"I'm sure you're aware of the extremely grave potential for cultural shock and social disorientation contained in this present situation, if the facts were prematurely and suddenly made public without adequate preparation and conditioning."
—Heywood Floyd, Head, The National Council of Astronautics, 2001