If I Never Get Back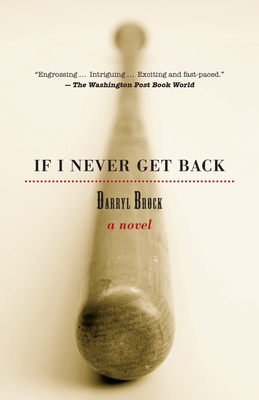 If I Never Get Back
Frog, Ltd., Paperback, 9781583941874, 424pp.
Publication Date: May 1, 2007
* Individual store prices may vary.
Buy Now
or
Shop Local
Enter your zip code below to purchase from an indie close to you.
Description
Contemporary reporter Sam Fowler, stuck in a dull job and a failing marriage, abruptly finds himself transported back to the summer of 1869. After a wrenching period of adjustment, he comes to feel rejuvenated by his involvement with the nation's first pro baseball players. He also finds his senses quickening and tastes changing as he faces life-threatening 19th-century challenges on and off the baseball diamond. Through his attachments to the ballplayers and the lovely Caitlin O'Neill, he might just regain the sense of family he desperately needs. Darryl Brock masterfully evokes post-Civil War America's smoky, turbulent cities, the new transcontinental railroad that takes passengers over prairies and mountains to California, the dance halls and parlor houses, the financial booms and busts, and historical luminaries like Mark Twain and Jesse James. Equally appealing to sports fans and anyone who likes a good read, If I Never Get Back well deserves the Cleveland Plain Dealer's judgment that it "hits a home run.
About the Author
Darryl Brock authored the highly acclaimed novel If I Never Get Back, as well as articles on Mark Twain, baseball, and other subjects in numerous publications. Brock lives with his wife in Berkeley, California.
Praise For If I Never Get Back…
"A rawhide odyssey … meticulously historical.… By now the reader is asking 'And then? And then?' like a child listening to a storyteller."
—Time

"Grabs you from line one on page one and never lets go. Enchanting."
—San Francisco Chronicle

"An engrossing, even charming tale.… By its final inning, the reader is sad to see it end."
—The New York Times Book Review

"A grand adventure and joyful embrace of baseball the way it ought to be played … If I Never Get Back should be required reading for players and owners as well as fans."
—The Washington Times