Hidden Hands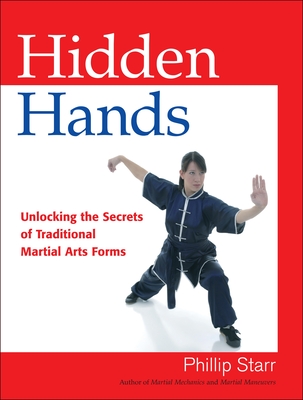 Hidden Hands
Unlocking the Secrets of Traditional Martial Arts Forms
Blue Snake Books, Paperback, 9781583942437, 235pp.
Publication Date: November 23, 2010
* Individual store prices may vary.
Buy Now
or
Shop Local
Enter your zip code below to purchase from an indie close to you.
Description
The solo forms or sets of a martial art may appear to be merely flashy performances or rote exercises for conditioning, and because of this many students disregard this aspect of their training. True martial arts masters, however, know that the forms of a system actually contain all of the techniques and secrets of that system—if one knows how to look for them. Often called the "great books" of martial arts, forms are crucial for a deeper understanding of the art one practices.

In Hidden Hands, Phillip Starr provides detailed instruction in the art of reading martial arts forms: by first mastering rudimentary "words" (individual techniques) and then moving on to simple "sentences" (combinations of techniques), the student will come to understand forms as ancient documents that contain the true essence of their art. Starr discusses different aspects of forms practice such as rhythm, timing, spirit, and performance, and presents specific guidelines for interpreting the movements of various forms. The book ends with the dissection and interpretation of a complete form. Containing examples from Chinese, Japanese, Okinawan, and Korean martial arts, Hidden Hands shows serious practitioners how to improve in any art and style.
About the Author
A practitioner of the Chinese martial arts for nearly 50 years, Phillip Starr is the founder of Yilichuan kung fu, a system that merges China's three internal styles. Also a 3rd grade black belt in Kyokushin karate, he is National Chairman of the Yilichuan Martial Arts Association.
Having begun martial arts training in judo in 1956, Starr soon became one of the first Americans to study kung-fu and was the only American student of Master W.C. Chen. Starr became a U.S. National Champion for the United States Karate Association (USKA) in 1976--the first kung-fu stylist to be awarded that title by the USKA. From 1991 to 1995 he served as National Chairman for the Amateur Athletic Union (AAU) Chinese Martial Arts Division, which subsequently became the largest kung-fu organization in the United States. Also in 1991, Starr returned from competition retirement to became the U.S. National Xingyichuan Champion at the AAU National Championships. The same year, he received the AAU's highest honor, the Presidential Leadership Award. In 1992 he was named to the Kung-Fu Hall of Fame by Inside Kung-Fu Magazine for "Outstanding Contribution to Chinese Martial Arts."
Praise For Hidden Hands…
"Phillip Starr's newest book, Hidden Hands, is one of a kind. Mr. Starr shows that the functions and practical applications of kata are universal and can apply to any kind of martial art. He brings forth examples of these applications not only from kung fu but from karate and taekwondo as well. This book is a must for any serious martial artist.
—Prof. Dan Anderson, author of American Freestyle Karate: A Guide to Sparring