Bagua Linked Palms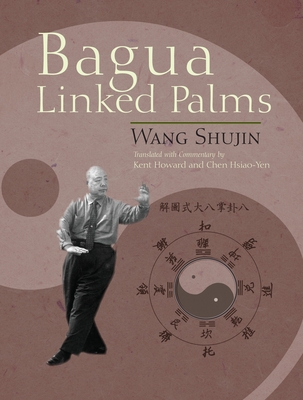 Bagua Linked Palms
Blue Snake Books, Paperback, 9781583942642, 86pp.
Publication Date: June 2, 2009
* Individual store prices may vary.
Buy Now
or
Shop Local
Enter your zip code below to purchase from an indie close to you.
Description
Master Wang Shujin (1904—1981) was one of the world's foremost exponents of Chinese internal martial arts, with legendary expertise in the disciplines of Bagua Zhang, Taiji Quan, and Xingyi Quan. This book offers a lucid translation of Master Wang's seminal work on Bagua Zhang and includes expanded instruction by co-translator and noted Bagua Zhang expert Kent Howard. It also introduces readers to a rarely seen personal side of Wang Shujin, who was not only a fighter but also a teacher and spiritual leader.

Bagua Linked Palms includes a wealth of additional information useful to the practitioner of internal martial arts, including the story of Bagua Zhang's development, the connection between the Bagua and the I Ching, and step-by-step instruction in the eight "changes" of Bagua Linked Palms, the first form in Master Wang's style of Bagua Zhang. This comprehensive, richly annotated text makes it a must-have addition to every serious martial arts library.
Praise For Bagua Linked Palms…
"I first met Kent Howard nearly twenty years ago, just after I started publishing the Pa Kua Chang Journal. Kent quickly became one of my most reliable and trusted resources, offering me sound and straightforward advice about the practice of Bagua Zhang, Chinese culture, and the Chinese language. Kent has brought all of that wisdom, and his decades of experience, to the writing of this wonderful book. He is the only person I know who could have presented this book with such insight and accuracy."
—Dan Miller, publisher and editor, Pa Kua Chang Journal
"Wang Shu Jin was one of China's authentic and truly talented ba gua and tai chi masters. Kent Howard's book provides insight into Wang's wisdom and power as a martial artist."
—Bruce Frantzis, author of The Power of Internal Martial Arts and Chi
"Kent Howard not only has the experience in Bagua to write this, he also has the intelligence and discrimination to do the translation justice. I know of no better person in the English- or Chinese-speaking world for the task. I hope and expect this text to be the definitive one on Wang Shujin for many years to come."
—Allen Pittman, author of Walking the I Ching: The Linear Ba Gua of Gao Yi Sheng
"Here at last is the late master Wang Shujin's introduction to the sublime art of Bagua Zhang in English! We all owe a debt to Kent Howard for this valuable contribution to the martial arts archive."
—Marnix Wells, author of Scholar Boxer: Cháng Nâizhou's Theory of Internal Martial Arts and the Evolution of Taijiquan
"Wang Shujin's Bagua Linked Palms ranks as one of the most influential Bagua training manuals ever written. This work is an outstanding addition to the historical scholarship concerning Wang Shujin and with its numerous clear photos, it is equally valuable for those seeking practical instruction in Wang's Bagua.
—Brian L. Kennedy, author of Chinese Martial Arts Training Manuals: A Historical Survey
"Howard has just published the first translation of and commentary on a 40-year-old Chinese text on bagua zhang, Bagua Linked Palms, by Master Wang Shujin…The book is a transmission of the teachings Howard has studied since 1973. With a B.A. degree in East Asian languages and cultures, Howard is fluent in Mandarin and well-known in the bagua community as a Taoist, martial artist, teacher, writer and translator."
—NewsReview.com
"Kent Howard provides excellent commentary on Wang's original writing, and unlike some Bagua photo essays, the form is readable."
—Dojo Rat