The Western Book of Crossing Over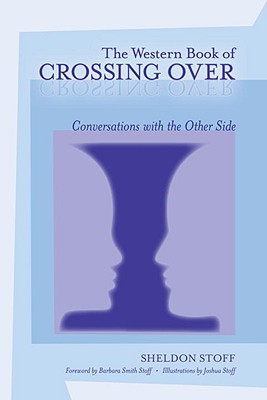 The Western Book of Crossing Over
Conversations with the Other Side
Frog in Well, Paperback, 9781583942666, 150pp.
Publication Date: June 30, 2009
* Individual store prices may vary.
Not Currently Available for Direct Purchase
or
Shop Local
Enter your zip code below to purchase from an indie close to you.
Description
This reflective series of conversations with his wife Lorraine after her death enables author Sheldon Stoff to take readers on a journey through the process of living, dying, and living again—in the afterlife. Insights gleaned from both Western and Eastern traditions, especially those of Kabbalah, provide a universalist, non-sectarian context for Stoff's experiences. With chapters addressing reincarnation, fulfilling one's life mission, life review, and the significance of finding one's soul mate, The Western Book of Crossing Over presents a transcendent view of human consciousness and what it means to be alive.

Packed with fascinating details about the afterlife, The Western Book of Crossing Over builds on the foundation laid by popular psychic authors Sylvia Browne and John Edward, and serves as a passionate reminder of the importance of keeping an awareness of the afterlife in order to live fully and authentically on this side of the life-death divide. Eleven original drawings of the Other Side based on the conversations between the author and his wife by their son Jesse provide a fascinating visual counterpoint to Lorraine's descriptions of the afterlife and her uplifting, ultimately hopeful and joyful messages of love.
About the Author


Joshua Stoff is the curator of the Cradle of Aviation Museum on Long Island, and is a noted aviation historian. He is the author of numerous aviation and space titles, including Arcadia Publishing's Long Island Aircraft Crashes: 1909-1959 and Building Moonships: The Grumman Lunar Module.


Praise For The Western Book of Crossing Over…
"One of the most amazing books I have ever come across … written in conversation with the 'other side'—with a life-companion who is no longer here but, it appears, still is, and has been over many incarnations, the author's partner…. An expression of the purest, clearest love—for everyone and everything, as our task and mission on Earth…. A book to read, to marvel at, to learn from, and to heed in all that we do."
—Ervin László, PhD, founder of the Club of Budapest and author of CosMos: A Co-creator's Guide to the Whole World

"Now, through their binding love, Sheldon and Lorraine Stoff offer direct testimony to life and consciousness…. Through practical answers to practical questions, the Stoffs have succeeded in forging a bridge of consciousness between then and now and what will be."
—John L. Mayfield, DC, author of Body Intelligence

"For this little book on the biggest subject in the world, we are indebted to a scholarly, disciplined, and trustworthy pair of Soul Mates, one on earth and the other in heaven, communicating back and forth—a rare and priceless perspective on the human odyssey."
—David B. Chamberlain, PhD, author of The Mind of Your Newborn Baby

"Throughout human history there have been monumental questions which have bubbled up through the elixir of life.

• Why am I born?
• What is the meaning of my life?
• Why does my very being resonate with that one person?
• Will I reconnect with relatives and loved ones after they have died?
• Will I feel pain when dying?
• What will happen to me when I die?
• Will I come back again?

"For anyone who has sought answers to the above and other questions about life and consciousness, finally there is a fountain of testimony through which flows reason, meaning, and purpose on many levels.

"There have been guidepost books which have attempted answers: The Tibetan Book of the Dead, The Egyptian Book of the Dead, even The American Book of the Dead, Elisabeth Kübler-Ross's On Death and Dying, Chopra's Life After Death: The Burden of Proof, Sogyal Rimpoche's The Tibetan Book of Living & Dying. But are they faint whispers in gathering simple truths for consciousness today? The Western Book of Crossing Over: Conversations with the Other Side is not esoteric mythological journeying. Now, through their binding love, Sheldon and Lorraine Stoff offer direct testimony to life and consciousness never before so clearly articulated. Through practical answers to practical questions, the Stoffs have succeeded in forging a bridge of consciousness between then and now and what will be."
—Jon R.G. Turner and Troya Turner, co-founders and co-directors of the Whole-Self Discovery and Development Institute International, and authors of Birth, Life, and More Life: Reactive Patterning Based on Prebirth Events