Fathomless Heart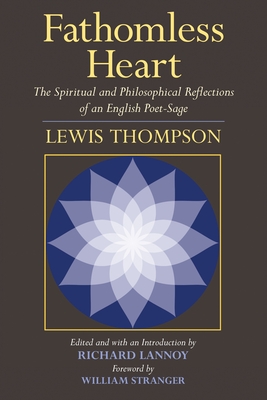 Fathomless Heart
The Spiritual and Philosophical Reflections of an English Poet-Sage
North Atlantic Books, Paperback, 9781583942802, 373pp.
Publication Date: August 2, 2011
* Individual store prices may vary.
Buy Now
or
Shop Local
Enter your zip code below to purchase from an indie close to you.
Description
Lewis Thompson (1909–1949) was primarily a poet, a man of letters influenced by Eastern spiritualism and the poets Rimbaud and Rilke. As Richard Lannoy, the editor of Fathomless Heart, writes, Thompson, who rejected traditional literature after experiencing a spiritual crisis as a teenager, wrote "solely as a form of spiritual exercise the most sparse and urgent communication conceivable." Later in life he wandered alone in India for many years. This book is the culmination of his life and writing.
 
Fathomless Heart is Thompson's view on how to live a spiritual and truthful life—how to awaken to full consciousness. Meant to be sampled for insights into topics that matter most to the reader, the book is divided into sections on universal subjects such as Truthfulness, Ignorance, Sexuality, Beauty, and Idleness. Novelist Somerset Maugham met Thompson at an Indian ashram and incorporated him into the character of Larry, the hero of the novel The Razor's Edge, which popularized the archetypal westerner pursuing spirituality in the East. In reality, Thompson directed his unique powers of concentration toward exploration of mental awareness rather than on the accumulation of knowledge about exotic spiritual techniques—an awareness that manifests throughout this useful and inspiring book.
About the Author


Lannoy is a photographer.


Praise For Fathomless Heart…
"If I could, I would give Fathomless Heart to every serious seeker on the planet. Lewis Thompson is an indispensable, incandescent, poignantly and piercingly original guide, of the highest literary genius and the deepest spiritual integrity. No one will meet his work and the fierce clear being within it without being challenged and honed. The seismic magnificence of this definitive volume cannot be exaggerated."
—Andrew Harvey, author of The Hope: A Guide to Sacred Activism and Son of Man: The Mystical Path to Christ

"A book of the highest distinction; poetic aphorisms of great density and beauty."
—Lawrence Durrell, author of The Alexandria Quartet

"Lewis Thompson's journey from the paradoxes of Blake and Rimbaud to Hindu mysticism and the quest for liberation is the quintessential story of the twentieth century's exchange between East and West. The poetic aphorisms in Fathomless Heart push beyond language to create a bodily awareness that eclipses intellect and opens to rare, authentic presence. This book's fiery illumination challenges all those who would discount the human dimension. Thompson's writings are an essential expression of visionary insight."
—Celia Rabinovitch, artist and author of Surrealism and the Sacred: Power, Eros and the Occult in Modern Art

"The critical point where European and Indian traditions of thought interrogate one another in full mutual respect."
—Lindsay Clarke, author of Chymical Wedding

"Lewis Thompson is one of the twentieth century's major thinkers. A European who immersed himself in Indian culture while maintaining a critical eye on both East and West, his writings are original and profoundly insightful. Editor Richard Lannoy is to be congratulated for his remarkable arrangement of the material and for his splendid introduction."
—Fritz Blackwell, Emeritus Director of the Asia Program, Washington State University

"Amongst the most arresting spritual writers of the twentieth century."
—Harry Oldmeadow, author of Journey's East: Twentieth Century Western Encounters with Eastern Spiritual Traditions

"Thompson's vision is unique and strong, his language both clear and idiosyncratic. …we can only thank Lannoy for dedicating so much of his time and energy over so many years to preserving these powerful writings. Lannoy's sensitive and skillful editing – along with a most helpful introduction and afterword for this collection – leaves us an immeasurable treasury of wisdom and challenge."
—Resurgence magazine (UK)