Craniosacral Therapy for Children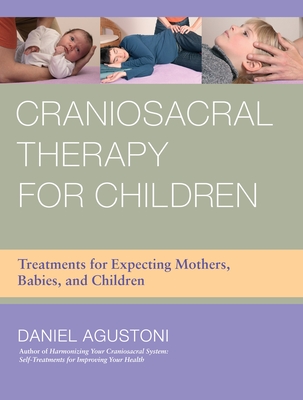 Craniosacral Therapy for Children
Treatments for Expecting Mothers, Babies, and Children
North Atlantic Books, Paperback, 9781583945537, 516pp.
Publication Date: February 5, 2013
* Individual store prices may vary.
Shop Local
Enter your zip code below to find indies closest to you.
Description
Craniosacral Therapy for Children introduces a craniosacral therapy treatment protocol for babies and children up to 12 years of age. A gentle hands-on healing approach, craniosacral therapy releases tensions in the body in order to relieve pain, resolve trauma, and improve physical and emotional health. Author and craniosacral therapist Daniel Agustoni discusses the reasons for treating young children and for beginning treatment during pregnancy. He explains how the stress of birth can cause asymmetries and misalignments in babies' bodies that can lead to problems later in life: from suckling problems, abdominal colic, and fragmented sleep patterns to anxiety, hyperactivity, and ADD. Agustoni demonstrates how craniosacral therapy can also offset the effects of stress, trauma, and PTSD that may affect the growing child depending on his or her environment, biology, and temperment.

Enhanced with over 120 instructional photos and illustrations, the book's hands-on techniques are presented along with suggestions for interacting with parents, babies, and young children. The book discusses methods of evaluation and treatment following structural, functional, and biodynamic models. Engaging case examples describe the therapeutic results of the treatment, which include increased security and confidence, relaxation, support for the immune system, and a sense of well-being. An important resource for healthcare practitioners, this book is also useful for educators, parents, and caregivers interested in learning new ways to help their children.
About the Author
Daniel Agustoni is a founder, director, and workshop leader at the Sphinx Craniosacral Institut in Switzerland. He has received training in a wide range of alternative medical-treatment methods including craniosacral body therapy, Gestalt therapy, family-constellation work, and somatic experiencing (trauma healing).




Praise For Craniosacral Therapy for Children…
"If we treat someone early in life, we can prevent or resolve many conditions that would otherwise detract from who that individual will become."
—From the foreword by Benjamin Shield, PhD, international instructor of Pediatric Craniosacral Therapy

"In Craniosacral Therapy for Children, Daniel Agustoni presents a comprehensive and practical discussion of issues and procedures for the treatment of infants and children. Agustoni's introductory chapters set the work in a broader therapeutic and theoretical context. His practical examples are realistic and inspiring. This book provides a valuable introduction for the experienced craniosacral therapist whose practice is extending to younger clients and the family context."
—Anthony P. Arnold, PhD, author of Rhythm and Touch: The Fundamentals of Craniosacral Therapy
 
"Daniel Agustoni has contributed greatly to the Craniosacral Therapy community by authoring this book on treatment for children. In addition to writing about the theory and practice of Craniosacral Therapy, Agustoni has compiled various scenarios that can appear during the therapeutic process. This will add greatly to the skill and capacity of the reader."
—William Martin Allen, PhD, DDS