Amor y Tacos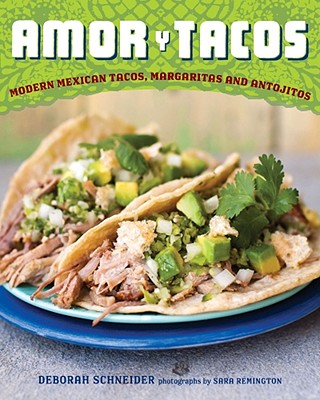 Amor y Tacos
Modern Mexican Tacos, Margaritas, and Antojitos
Stewart, Tabori, & Chang, Hardcover, 9781584798248, 152pp.
Publication Date: May 2010
* Individual store prices may vary.
Shop Local
Enter your zip code below to find indies closest to you.
Description
Think you know what a taco is? Think again. This hot little book delivers a deliciously new way to do" Mexicannot just tacos but also antojitos (the little bites" that are Mexico's variation on tapas), salsas, tequila- and mezcal-based cocktails, and the amazingly thirst-quenching fruit drinks called aguas frescas. Taking her cue from the taqueros who vend fresh, inventive, lovingly prepared food from roadside stalls in Baja and street-side trucks in Tijuana, author Deborah Schneider shakes up and recombines traditional Mexican flavors in ways that will dazzle your taste buds. Her inspired, quick, easy-to-make dishes include Garlic Shrimp Tacos with Poblano Chiles, Deep-Fried Fish Tacos with Spicy Coleslaw, Lemon-Garlic Chicken Tacos with Mezcal, a vegetarian taco with quesa fresca (fresh cheese), and even a taco stuffed with shredded beef that's been simmered in Coca-Cola.
About the Author


Ethel Brennan is a writer and photography stylist. When she was a child, she and her family lived in Provence, where her parents owned a goat cheese farm. Although her family returned to California while she was still young, most of her childhood summers were spent traveling in France from Paris to the rustic countryside of Provence where her parents kept the farmhouse. She is now based in San Francisco and travels frequently to France with her twin boys and French husband. She is the author of "Herbes de Provence", "Baby Gifts" and co-author of "Citrus", "Sun Dried Tomatoes", "Goat Cheese", "A Children's Kitchen Garden" and most recently "At the Farmers' Market with Kids". Sara Remington is an award-winning food and travel photographer based in San Francisco. She has photographed over 30 cookbooks, including "The Blue Chair Jam Cookbook" by Rachel Saunders, "My Calabria" by Rosetta Costantino, "The Mozza Cookbook" by Nancy Silverton, "The Wild Table" by Connie Green, "Plum Gorgeous" by Romney Steele, and "Vino Argentino" by Laura Catena. She was nominated for a James Beard Award for her photography in "The Blue Chair Jam Cookbook" and continues to travel the globe shooting for publishing companies, editorials, and advertising. Her work is inspired by the tactile and visual experiences of her childhood road trips in the United States and France.