Every Dog Has a Gift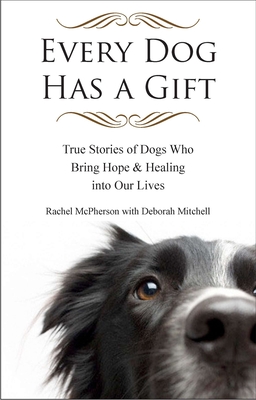 Every Dog Has a Gift
True Stories of Dogs Who Bring Hope & Healing Into Our Lives
Tarcher, Paperback, 9781585428991, 250pp.
Publication Date: October 13, 2011
* Individual store prices may vary.
Buy Now
or
Shop Local
Enter your zip code below to purchase from an indie close to you.
Description
BETTY WHITE on EVERY DOG HAS A GIFT "This book gives us some specific examples of the unique therapy that dogs provide when it is needed most. Enjoy a good read, after which I m sure you will appreciate your own dog even more.
As anyone who has ever gotten home after a long, hard day and been greeted by their dog and that soulful look of adoration will tell you: Dog love is one of the best kinds of love there is. In "Every Dog Has a Gift," founder and executive director of The Good Dog Foundation Rachel McPherson explores the inspiring work that dogs are doing to help humans cope with a wide range of physical, mental, and emotional problems. Millions of dogs around the world are heroes every day. These therapy and service dogs (and often quite ordinary, "uncertified" dogs just like your own):
bring their healing presence into hospitals and hospice centers;provide a calm and centering "home base" for autistic children; andserve as the perfect audience for kids who need help practicing and improving their reading skills.
In telling these stories, "Every Dog Has a Gift" pays homage to the gift that each and every dog possesses: the ability to bring the healing power of unconditional love into our lives.
About the Author


Deborah Mitchell is a medical writer and journalist specializing in natural medicine and nutrition topics. Her articles have appeared in professional journals as well as national consumer magazines. She has authored or co-authored nine books about various health topics, including "The Natural Health Guide to Headache Relief, The Dictionary of Natural Healing, Natural Aphrodisiacs, " and "The Broccoli Sprouts Break-through." Ms. Mitchell lives and works in Tucson, Arizona.
Praise For Every Dog Has a Gift…
"When I first heard of The Good Dog Foundation I thought, 'Is there any other kind?' This book gives us some specific examples of the unique therapy that dogs provide when it is needed most. Enjoy a good read, after which I'm sure you will appreciate your own dog even more."
—Betty White
 
"This is a lovely, charming, important book that contributes to a better understanding of the human-dog bond, a relationship that is, in my estimation, not only extraordinary but sacred."
—Dean Koontz

"Every Dog Has a Gift is, simply, inspiring."
—Carol Memmott, USA Today
 
"If you can't have a dog, you probably shouldn't read this book; it's full of moving stories about dogs who have made such a difference in people's lives that you'll be tempted to run to the nearest rescue shelter."
—Whole Life Times
 
"The book is filled with inspiring stories. It's truly amazing what a wagging tail can do."
—St. Louis Times Dispatch
 
"This wonderful, heartwarming book tells true stories about "the hope and healing" that therapy dogs bring to people who suffer from various ailments."
—American Dog magazine
 
"A wonderful book of miracles that any dog lover (including this reviewer) will enjoy."
—San Francisco Book Review